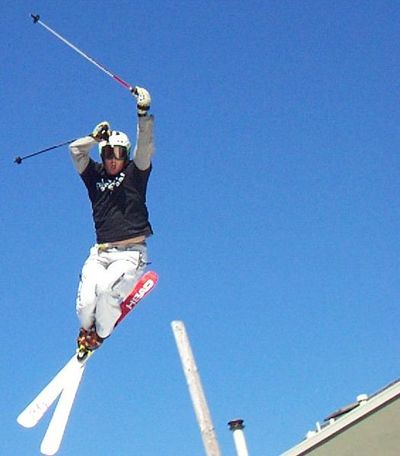 San Juan, San Juan, Puerto Rico
---
About Jonny Moseley
---
Jonathan William Moseley (born August 27, 1975) is an American freestyle skier and television presenter. He is the first person born in Puerto Rico to become a member of the U.S. Ski Team. He is also known for hosting three seasons of MTV's The Challenge, which was formerly known as Real World/Road Rules Challenge. He has also hosted four reunion specials for Battle of the Sexes, the sequel of Battle of the Seasons, Rivals II and Free Agents.
External Links:
Birth Chart and Planetary Positions of Jonny Moseley
---
Astrological portrait of Jonny Moseley
---
Here you will read about qualities of Jonny Moseley that may be familiar to you as well as a few that might seem new. Together the various features listed below, comprise an astrological portrait of Jonny Moseley as a unique person
For a more detailed analysis, check out Astro Reports.
How Jonny Moseley Appears to Others:
The Essence of Who Jonny Moseley Is:
Jonny Moseley's Emotions and Feelings:
How does Jonny Moseley Think and Communicate:
Jonny Moseley's Love and Romance:
Jonny Moseley's Drive and Ambition:
Current important phases/events in Jonny Moseley's life
---
Jonny Moseley's relationships
---
Astrological aspects and planetary data / tags for Jonny Moseley: Sun 3 Virgo, Moon 1 Taurus, Mercury 24 Virgo, Venus 3 Virgo, Mars 7 Gemini, Jupiter 24 Aries, Saturn 27 Cancer, Uranus 29 Libra, Neptune 9 Sagittarius, Pluto 7 Libra, Asc 8 Gemini, Mc 26 Aquarius, Sun Square Ascendant, Mercury Quincunx Midheaven, Sun Trine Moon, Moon Trine Venus, Sun Sextile Uranus, Sun Conjunct Venus, Moon Square Saturn, Moon Opposition Uranus, Mercury Quincunx Jupiter, Mercury Sextile Saturn, Sun Square Mars, Venus Square Mars, Venus Square Ascendant, Mars Semi Square Jupiter, Mars Opposition Neptune, Mars Trine Pluto, Mars Conjunct Ascendant, Jupiter Square Saturn, Jupiter Sesquiquadrate Neptune, Jupiter Semi Square Ascendant, Jupiter Sextile Midheaven, Saturn Square Uranus, Saturn Quincunx Midheaven, Uranus Trine Midheaven, Neptune Sextile Pluto, Neptune Opposition Ascendant, Pluto Trine Ascendant
Categories related to Jonny Moseley: Living people, University of California, Berkeley alumni, Puerto Rico, August 27 births, California, Sportspeople from California, 1975 births, Sportspeople from San Juan, People from Tiburon, Medalists at the 1998 Winter Olympics, American male freestyle skiers, Olympic freestyle skiers of the United States, Olympic gold medalists for the United States in freestyle skiing, American freeskiers, Freestyle skiers at the 1998 Winter Olympics, Puerto Rican male freestyle skiers, Freestyle skiers at the 2002 Winter Olympics
Photo attribution: English: Original photo by Telstar Logistics, trimmed by AnonEMouse, Own work