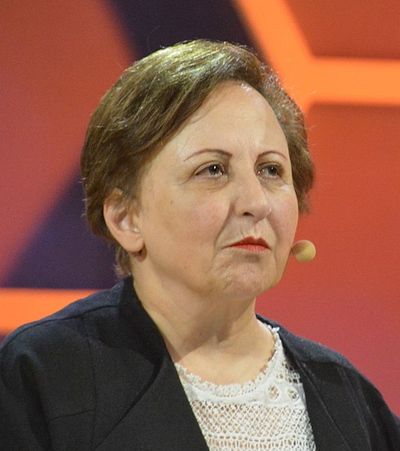 Pasragad Branch, Hamadān, Iran
---
About Shirin Ebadi
---
Shirin Ebadi (Persian: شيرين عبادى, romanized: Širin Ebādi; born 21 June 1947) is an Iranian political activist, lawyer, a former judge and human rights activist and founder of Defenders of Human Rights Center in Iran. On 10 October 2003, Ebadi was awarded the Nobel Peace Prize for her significant and pioneering efforts for democracy and human rights, especially women's, children's, and refugee rights.
External Links:
Birth Chart and Planetary Positions of Shirin Ebadi
---
Astrological portrait of Shirin Ebadi
---
Here you will read about qualities of Shirin Ebadi that may be familiar to you as well as a few that might seem new. Together the various features listed below, comprise an astrological portrait of Shirin Ebadi as a unique person
For a more detailed analysis, check out Astro Reports.
How Shirin Ebadi Appears to Others:
The Essence of Who Shirin Ebadi Is:
Shirin Ebadi's Emotions and Feelings:
How does Shirin Ebadi Think and Communicate:
Shirin Ebadi's Love and Romance:
Shirin Ebadi's Drive and Ambition:
Current important phases/events in Shirin Ebadi's life
---
Shirin Ebadi's relationships
---
Astrological aspects and planetary data / tags for Shirin Ebadi: Sun 29 Gemini, Moon 3 Leo, Mercury 23 Cancer, Venus 9 Gemini, Mars 22 Taurus, Jupiter 18 Scorpio, Saturn 6 Leo, Uranus 22 Gemini, Neptune 8 Libra, Pluto 11 Leo, Sun Conjunct Uranus, Sun Semi Square Pluto, Mercury Semi Square Venus, Mercury Sextile Mars, Mercury Trine Jupiter, Mercury Semi Sextile Uranus, Venus Sextile Saturn, Venus Trine Neptune, Venus Sextile Pluto, Mars Opposition Jupiter, Mars Semi Sextile Uranus, Mars Sesquiquadrate Neptune, Saturn Semi Square Uranus, Saturn Sextile Neptune, Saturn Conjunct Pluto, Neptune Sextile Pluto
Categories related to Shirin Ebadi: Living people, June 21 births, 1947 births, University of Tehran alumni, Biography with signature, Recipients of the Legion of Honour, Commandeurs of the Légion dhonneur, Iranian writers, University of Tehran faculty, Nobel Peace Prize laureates, Women Nobel laureates, Nonviolence advocates, Childrens rights activists, Carnegie Council for Ethics in International Affairs, Iranian democracy activists, Iranian emigrants to the United Kingdom, People from Hamadan, Members of the National Council for Peace, Iranian human rights activists, Iranian exiles, Iranian dissidents, Iranian womens rights activists, Iranian feminists, Iranian women writers, Iranian Muslims, Iranian women activists, Iranian women lawyers, Iranian Nobel laureates, Iranian women judges
Photo attribution: Bengt Oberger, Own work