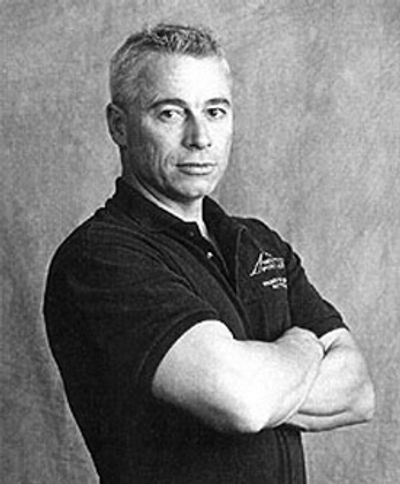 Wisconsin, Wisconsin, United States
---
About Ernest Emerson
---
Ernest R. Emerson (born March 7, 1955) is an American custom knifemaker, martial artist, and edged-weapons expert. Originally an engineer and machinist in the aerospace industry, Emerson became a knifemaker by producing knives for a martial arts class and making art knives early in his knifemaking career. In the 1980s he became better known for his combat knives and popularizing a style of knife known as the Tactical-folder.
External Links:
Birth Chart and Planetary Positions of Ernest Emerson
---
Astrological portrait of Ernest Emerson
---
Here you will read about qualities of Ernest Emerson that may be familiar to you as well as a few that might seem new. Together the various features listed below, comprise an astrological portrait of Ernest Emerson as a unique person
For a more detailed analysis, check out Astro Reports.
How Ernest Emerson Appears to Others:
The Essence of Who Ernest Emerson Is:
Ernest Emerson's Emotions and Feelings:
How does Ernest Emerson Think and Communicate:
Ernest Emerson's Love and Romance:
Ernest Emerson's Drive and Ambition:
Current important phases/events in Ernest Emerson's life
---
Ernest Emerson's relationships
---
Astrological aspects and planetary data / tags for Ernest Emerson: Sun 16 Pisces, Moon 5 Virgo, Mercury 19 Aquarius, Venus 3 Aquarius, Mars 6 Taurus, Jupiter 20 Cancer, Saturn 21 Scorpio, Uranus 23 Cancer, Neptune 27 Libra, Pluto 25 Leo, Mercury Quincunx Jupiter, Mercury Square Saturn, Sun Trine Jupiter, Sun Trine Saturn, Sun Semi Square Venus, Venus Square Mars, Jupiter Trine Saturn, Jupiter Conjunct Uranus, Saturn Trine Uranus, Saturn Square Pluto, Uranus Square Neptune, Uranus Semi Sextile Pluto, Neptune Sextile Pluto
Categories related to Ernest Emerson: Living people, American male karateka, March 7 births, American businesspeople, Featured articles, 1955 births, University of Wisconsin–La Crosse alumni, Kyokushin kaikan practitioners, People from Wisconsin, American practitioners of Brazilian jiu-jitsu, Knife makers, Weapon designers
Photo attribution: The original uploader was Mike Searson at English Wikipedia., Transferred from en.wikipedia to Commons by Sreejithk2000 using CommonsHelper.