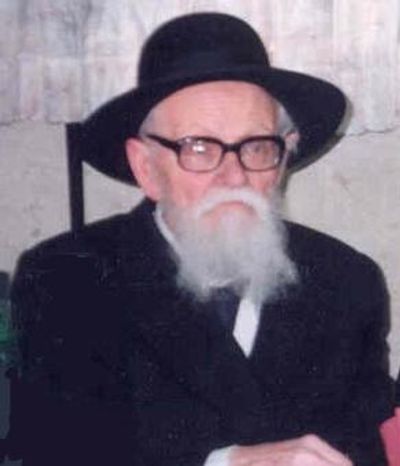 East Jerusalem, West Bank, Palestine
---
About Eliezer Waldenberg
---
Eliezer Yehuda Waldenberg (Hebrew: הרב אליעזר יהודה וולדנברג), December 10, 1915 – November 21, 2006) was a rabbi, posek, and dayan in Jerusalem. He is known as a leading authority on medicine and Jewish law and referred to as the Tzitz Eliezer after his 21-volume halachic treatise covering a wide breadth of halacha, including Jewish medical ethics, and daily ritual issues from Shabbat to kashrut.
External Links:
Birth Chart and Planetary Positions of Eliezer Waldenberg
---
Astrological portrait of Eliezer Waldenberg
---
Here you will read about qualities of Eliezer Waldenberg that may be familiar to you as well as a few that might seem new. Together the various features listed below, comprise an astrological portrait of Eliezer Waldenberg as a unique person
For a more detailed analysis, check out Astro Reports.
How Eliezer Waldenberg Appears to Others:
The Essence of Who Eliezer Waldenberg Is:
Eliezer Waldenberg's Emotions and Feelings:
How does Eliezer Waldenberg Think and Communicate:
Eliezer Waldenberg's Love and Romance:
Eliezer Waldenberg's Drive and Ambition:
Current important phases/events in Eliezer Waldenberg's life
---
Eliezer Waldenberg's relationships
---
Astrological aspects and planetary data / tags for Eliezer Waldenberg: Sun 17 Sagittarius, Moon 8 Aquarius, Mercury 14 Sagittarius, Venus 9 Capricorn, Mars 27 Leo, Jupiter 19 Pisces, Saturn 14 Cancer, Uranus 12 Aquarius, Neptune 2 Leo, Pluto 2 Cancer, Mercury Quincunx Saturn, Sun Conjunct Mercury, Sun Quincunx Saturn, Sun Square Jupiter, Sun Sesquiquadrate Neptune, Mercury Sextile Uranus, Venus Sesquiquadrate Mars, Mars Semi Square Saturn, Jupiter Trine Saturn, Jupiter Sesquiquadrate Neptune, Saturn Quincunx Uranus, Neptune Semi Sextile Pluto
Categories related to Eliezer Waldenberg: December 10 births, 2006 deaths, People from Jerusalem, Haredi rabbis in Israel, 1915 births, Israel Prize in Rabbinical literature recipients, Israel Prize Rabbi recipients, Rabbis in Jerusalem, Burials at Har HaMenuchot, Jewish medical ethics, Haredi rabbis in Mandatory Palestine