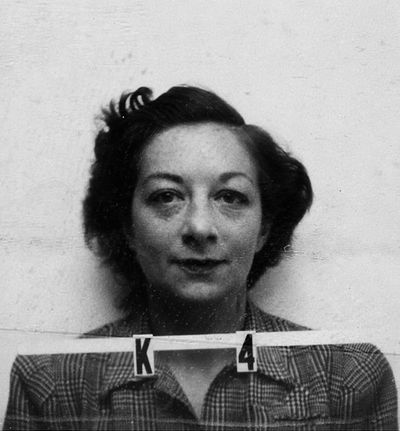 Phila, Pennsylvania, United States
---
About Charlotte Serber
---
Charlotte Serber (née Leof; July 26, 1911 – May 22, 1967) was an American journalist, statistician and librarian. She was the librarian of the Manhattan Project's Los Alamos Laboratory during World War II, and the laboratory's only female group leader. After the war she attempted to secure a position as a librarian at the Radiation Laboratory in Berkeley, but was rejected for lack of a security clearance; the likely reason was due to her political views. She later became a production assistant for the Broadway Theatre, and an interviewer for Louis Harris.
Birth Chart and Planetary Positions of Charlotte Serber
---
Astrological portrait of Charlotte Serber
---
Here you will read about qualities of Charlotte Serber that may be familiar to you as well as a few that might seem new. Together the various features listed below, comprise an astrological portrait of Charlotte Serber as a unique person
For a more detailed analysis, check out Astro Reports.
How Charlotte Serber Appears to Others:
The Essence of Who Charlotte Serber Is:
Charlotte Serber's Emotions and Feelings:
How does Charlotte Serber Think and Communicate:
Charlotte Serber's Love and Romance:
Charlotte Serber's Drive and Ambition:
Current important phases/events in Charlotte Serber's life
---
Charlotte Serber's relationships
---
Astrological aspects and planetary data / tags for Charlotte Serber: Sun 2 Leo, Moon 12 Leo, Mercury 23 Leo, Venus 16 Virgo, Mars 7 Taurus, Jupiter 5 Scorpio, Saturn 18 Taurus, Uranus 27 Capricorn, Neptune 21 Cancer, Pluto 28 Gemini, Asc 20 Virgo, Mc 18 Gemini, Mercury Square Saturn, Sun Semi Square Venus, Sun Square Mars, Sun Square Jupiter, Sun Semi Square Ascendant, Sun Semi Square Midheaven, Moon Semi Square Pluto, Venus Trine Saturn, Venus Conjunct Ascendant, Venus Square Midheaven, Mars Opposition Jupiter, Mars Sesquiquadrate Ascendant, Jupiter Semi Square Ascendant, Jupiter Sesquiquadrate Midheaven, Saturn Sextile Neptune, Saturn Trine Ascendant, Saturn Semi Sextile Midheaven, Uranus Quincunx Pluto, Neptune Sextile Ascendant, Ascendant Square Midheaven
Categories related to Charlotte Serber: University of Pennsylvania alumni, July 26 births, Writers from Philadelphia, Los Alamos National Laboratory personnel, American librarians, Women librarians, Drug-related suicides in New York (state), 1967 deaths, Manhattan Project people, 1911 births
Photo attribution: United States Army, Atomic Archive