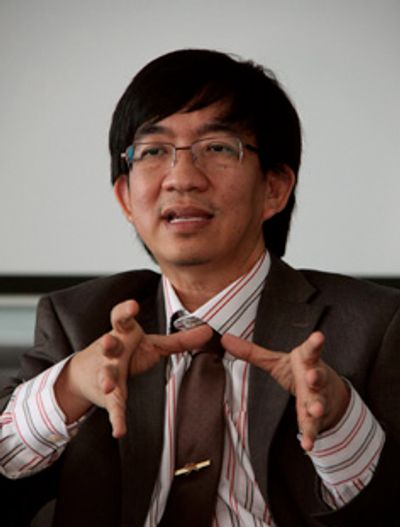 Jakarta, Jakarta, Indonesia
---
About Yohanes Surya
---
Yohanes Surya (born in Jakarta, November 6, 1963) is an Indonesian physicist and coach of Indonesian Physics Team for the Olympiad (TOFI) since 1993. Under his guidance, the Indonesian team has won 54 gold medals, 33 silver medals, and 42 bronze medals at various international science and physics competitions. He is well known for his 'fun and applicable physics' training program. He is author of 68 books and the comic Archi & Meidy.
External Links:
Birth Chart and Planetary Positions of Yohanes Surya
---
Astrological portrait of Yohanes Surya
---
Here you will read about qualities of Yohanes Surya that may be familiar to you as well as a few that might seem new. Together the various features listed below, comprise an astrological portrait of Yohanes Surya as a unique person
For a more detailed analysis, check out Astro Reports.
How Yohanes Surya Appears to Others:
The Essence of Who Yohanes Surya Is:
Yohanes Surya's Emotions and Feelings:
How does Yohanes Surya Think and Communicate:
Yohanes Surya's Love and Romance:
Yohanes Surya's Drive and Ambition:
Current important phases/events in Yohanes Surya's life
---
Yohanes Surya's relationships
---
Astrological aspects and planetary data / tags for Yohanes Surya: Sun 13 Scorpio, Moon 16 Cancer, Mercury 13 Scorpio, Venus 0 Sagittarius, Mars 8 Sagittarius, Jupiter 10 Aries, Saturn 16 Aquarius, Uranus 9 Virgo, Neptune 15 Scorpio, Pluto 13 Virgo, Sun Sextile Uranus, Sun Quincunx Jupiter, Mercury Quincunx Jupiter, Mercury Square Saturn, Sun Conjunct Mercury, Mercury Conjunct Neptune, Sun Square Saturn, Sun Conjunct Neptune, Sun Sextile Pluto, Mercury Sextile Pluto, Mars Trine Jupiter, Mars Square Uranus, Jupiter Quincunx Uranus, Jupiter Quincunx Pluto, Saturn Square Neptune, Saturn Quincunx Pluto, Uranus Conjunct Pluto, Neptune Sextile Pluto
Categories related to Yohanes Surya: Living people, November 6 births, Indonesian Christians, 1963 births, People from Jakarta, Indonesian physicists
Photo attribution: Jfkjaya, http://id.wikipedia.org/wiki/Berkas:YohaneSurya2010b.jpg