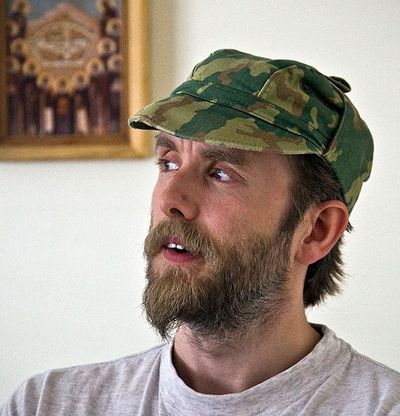 Kristian Larsson Vikernes
---
About Varg Vikernes
---
Louis Cachet (born Kristian Vikernes, 11 February 1973), also known as Varg Vikernes (Norwegian: [ˈvɑrɡ ˈvìːkəɳeːs]), is a Norwegian musician and writer. In 1991, he founded the one-man music project Burzum, which became one of the most influential black metal acts. In 1994, he was convicted of murder and arson, and subsequently served 15 years in prison.
Birth Chart and Planetary Positions of Varg Vikernes
---
Astrological portrait of Varg Vikernes
---
Here you will read about qualities of Varg Vikernes that may be familiar to you as well as a few that might seem new. Together the various features listed below, comprise an astrological portrait of Varg Vikernes as a unique person
For a more detailed analysis, check out Astro Reports.
How Varg Vikernes Appears to Others:
The Essence of Who Varg Vikernes Is:
Varg Vikernes's Emotions and Feelings:
How does Varg Vikernes Think and Communicate:
Varg Vikernes's Love and Romance:
Varg Vikernes's Drive and Ambition:
Current important phases/events in Varg Vikernes's life
---
Varg Vikernes's relationships
---
Astrological aspects and planetary data / tags for Varg Vikernes: Sun 23 Aquarius, Moon 9 Gemini, Mercury 3 Pisces, Venus 8 Aquarius, Mars 29 Sagittarius, Jupiter 27 Capricorn, Saturn 13 Gemini, Uranus 22 Libra, Neptune 7 Sagittarius, Pluto 4 Libra, Asc 7 Libra, Mc 10 Cancer, Moon Opposition Neptune, Moon Trine Venus, Moon Trine Ascendant, Sun Trine Uranus, Mercury Square Neptune, Mercury Quincunx Pluto, Moon Conjunct Saturn, Sun Sesquiquadrate Ascendant, Sun Sesquiquadrate Midheaven, Moon Sesquiquadrate Jupiter, Moon Sesquiquadrate Uranus, Moon Semi Sextile Midheaven, Mercury Sextile Mars, Venus Trine Saturn, Venus Sextile Neptune, Venus Trine Pluto, Venus Trine Ascendant, Venus Quincunx Midheaven, Mars Square Pluto, Jupiter Sesquiquadrate Saturn, Jupiter Square Uranus, Uranus Semi Square Neptune, Neptune Sextile Pluto, Neptune Sextile Ascendant, Pluto Conjunct Ascendant, Ascendant Square Midheaven
Categories related to Varg Vikernes: Living people, February 11 births, Musicians from Bergen, People from Bergen, Norwegian non-fiction writers, Critics of Christianity, Male critics of feminism, Anti-capitalists, Neopagan writers, Outsider musicians, Norwegian activists, Norwegian nationalists, Norwegian neo-Nazis, 1973 births, Norwegian criminals, Prisoners and detainees of France, Far-right politics in France, Anti-Muslim sentiment, Adherents of Germanic neopaganism, Antisemitism in Norway, Far-right politics in Norway, Nordicism, Norwegian neopagans, Norwegian people convicted of murder, People convicted of murder by Norway, YouTube controversies, Simple living advocates, Norwegian multi-instrumentalists, 1993 crimes in Norway, Anti-Christian sentiment in Europe, Attacks on churches, Destruction of religious buildings and structures, Black metal guitarists, Mayhem (band) members, Norwegian anti-communists, Norwegian arsonists, Norwegian black metal musicians, Norwegian bloggers, Norwegian emigrants to France, Norwegian environmentalists, Norwegian hunters, Norwegian YouTubers, Obscenity controversies in music, Old Funeral members, Opposition to Islam in Europe, Islamophobia in Europe, People convicted of arson, People convicted of racial hatred offences, Performers of neopagan music, Racism in Norway, Survivalists
Photo attribution: Varg_Vikernes.jpg: Рустем Адагамов (drugoi), Varg_Vikernes.jpg