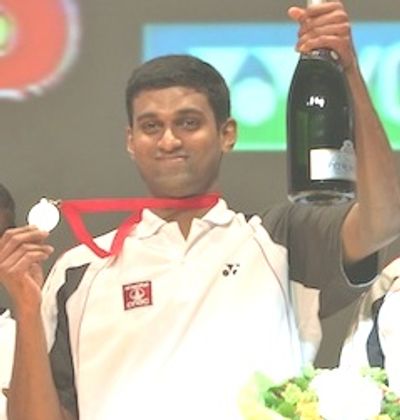 Ramanattukara, Kerala, India
---
About Valiyaveetil Diju
---
Valiyaveetil Diju (born 4 January 1981), also known as V. Diju, is an Indian badminton player from Kozhikode, Kerala. He clinched six National Championships title, once in the men's doubles and five times in the mixed doubles. He represented India in the 2012 London Olympics, became the first Indian player to participate at the Olympics in the mixed doubles alongside Jwala Gutta. He is the winner of Arjuna Award 2014, given by the Ministry of Youth Affairs and Sports, government of India to recognize his outstanding achievement in National sports. He is also the winner of G. V. Raja awards, which is the highest government-level recognition for sports persons in Kerala. He is winner of Jimmy George award 2014. He is also winner of Vivekanandha sports excellence award 2014. He won the Youth excellence award also in 2014.He is the only mixed doubles player from India to reach top 10 in the world badminton ranking(BWF) .His highest ranking is number 6th in world ranking.
External Links:
Birth Chart and Planetary Positions of Valiyaveetil Diju
---
Astrological portrait of Valiyaveetil Diju
---
Here you will read about qualities of Valiyaveetil Diju that may be familiar to you as well as a few that might seem new. Together the various features listed below, comprise an astrological portrait of Valiyaveetil Diju as a unique person
For a more detailed analysis, check out Astro Reports.
How Valiyaveetil Diju Appears to Others:
The Essence of Who Valiyaveetil Diju Is:
Valiyaveetil Diju's Emotions and Feelings:
How does Valiyaveetil Diju Think and Communicate:
Valiyaveetil Diju's Love and Romance:
Valiyaveetil Diju's Drive and Ambition:
Current important phases/events in Valiyaveetil Diju's life
---
Valiyaveetil Diju's relationships
---
Astrological aspects and planetary data / tags for Valiyaveetil Diju: Sun 13 Capricorn, Moon 19 Sagittarius, Mercury 16 Capricorn, Venus 21 Sagittarius, Mars 3 Aquarius, Jupiter 9 Libra, Saturn 9 Libra, Uranus 28 Scorpio, Neptune 23 Sagittarius, Pluto 24 Libra, Sun Conjunct Mercury, Sun Square Jupiter, Sun Square Saturn, Sun Semi Square Uranus, Mercury Semi Square Uranus, Venus Semi Square Mars, Venus Conjunct Neptune, Venus Sextile Pluto, Jupiter Conjunct Saturn, Neptune Sextile Pluto
Categories related to Valiyaveetil Diju: Living people, January 4 births, Recipients of the Arjuna Award, People from Kozhikode district, Malayali people, 1981 births, Indian national badminton champions, Commonwealth Games medallists in badminton, Asian Games competitors for India, Commonwealth Games silver medallists for India, Commonwealth Games bronze medallists for India, Badminton players at the 2006 Commonwealth Games, Badminton players at the 2012 Summer Olympics, Badminton players at the 2006 Asian Games, Badminton players at the 2010 Asian Games, South Asian Games gold medalists for India, Badminton players at the 2010 Commonwealth Games, Indian male badminton players, South Asian Games medalists in badminton, Olympic badminton players of India, South Asian Games silver medalists for India, Racket sportspeople from Kerala
Photo attribution: Dijujwala.jpg: Ndtv724, Dijujwala.jpg