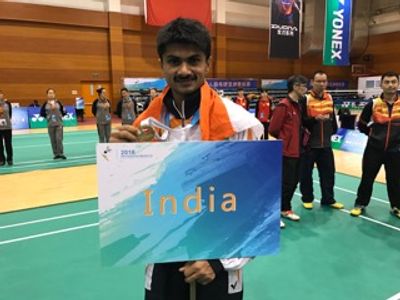 Suhas Lalinakere Yathiraj
---
About Suhas Lalinakere Yathiraj
---
Suhas Lalinakere Yathiraj (born 2 July 1983) is an Indian professional Para-Badminton player currently ranked world No.2 in Men's Singles and Silver Medalist in SL-4 category in Tokyo Paralympics 2021. Suhas is also an IAS officer of the 2007 batch of Uttar Pradesh cadre, he is presently serving as District Magistrate of Gautam Buddha Nagar. He has also served as the District Magistrate of Prayagraj. He became National Champion after winning Gold Medal in Men's Singles category at 2nd National Para Badminton Championships held at Varanasi in March 2018.
External Links:
Birth Chart and Planetary Positions of Suhas Lalinakere Yathiraj
---
Astrological portrait of Suhas Lalinakere Yathiraj
---
Here you will read about qualities of Suhas Lalinakere Yathiraj that may be familiar to you as well as a few that might seem new. Together the various features listed below, comprise an astrological portrait of Suhas Lalinakere Yathiraj as a unique person
For a more detailed analysis, check out Astro Reports.
How Suhas Lalinakere Yathiraj Appears to Others:
The Essence of Who Suhas Lalinakere Yathiraj Is:
Suhas Lalinakere Yathiraj's Emotions and Feelings:
How does Suhas Lalinakere Yathiraj Think and Communicate:
Suhas Lalinakere Yathiraj's Love and Romance:
Suhas Lalinakere Yathiraj's Drive and Ambition:
Current important phases/events in Suhas Lalinakere Yathiraj's life
---
Suhas Lalinakere Yathiraj's relationships
---
Astrological aspects and planetary data / tags for Suhas Lalinakere Yathiraj: Sun 9 Cancer, Moon 25 Pisces, Mercury 0 Cancer, Venus 24 Leo, Mars 2 Cancer, Jupiter 2 Sagittarius, Saturn 27 Libra, Uranus 5 Sagittarius, Neptune 27 Sagittarius, Pluto 26 Libra, Mercury Opposition Neptune, Mercury Quincunx Jupiter, Mercury Trine Saturn, Sun Semi Square Venus, Mercury Conjunct Mars, Mercury Trine Pluto, Venus Sextile Saturn, Venus Trine Neptune, Venus Sextile Pluto, Mars Quincunx Jupiter, Mars Trine Saturn, Mars Opposition Neptune, Jupiter Conjunct Uranus, Saturn Sextile Neptune, Saturn Conjunct Pluto, Neptune Sextile Pluto
Categories related to Suhas Lalinakere Yathiraj: Living people, July 2 births, 1983 births, Indian Administrative Service officers, Indian male badminton players, Indian male para-badminton players, Paralympic silver medalists for India, Medalists at the 2020 Summer Paralympics, Paralympic badminton players of India, Badminton players at the 2020 Summer Paralympics, Paralympic medalists in badminton
Photo attribution: Sandytyui, Own work