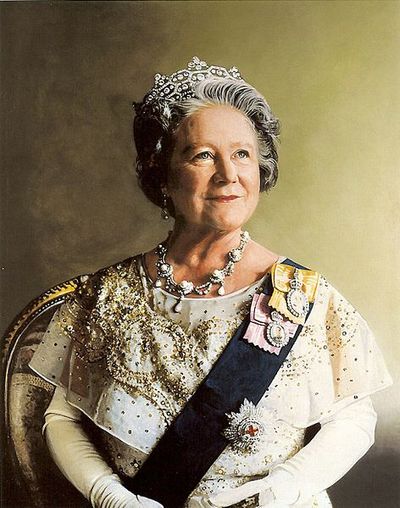 Elizabeth Angela Marguerite Bowes-Lyon
London, England, United Kingdom
---
About Queen Mother Elizabeth
---
Elizabeth Angela Marguerite Bowes-Lyon (4 August 1900 – 30 March 2002) was the wife of King George VI, and the mother of Queen Elizabeth II and Princess Margaret, Countess of Snowdon. She was queen of the United Kingdom and the Dominions from her husband's accession in 1936 until his death in 1952, after which she was known as Queen Elizabeth The Queen Mother, to avoid confusion with her daughter. She was the last empress of India.
External Links:
Birth Chart and Planetary Positions of Queen Mother Elizabeth
---
Astrological portrait of Queen Mother Elizabeth
---
Here you will read about qualities of Queen Mother Elizabeth that may be familiar to you as well as a few that might seem new. Together the various features listed below, comprise an astrological portrait of Queen Mother Elizabeth as a unique person
For a more detailed analysis, check out Astro Reports.
How Queen Mother Elizabeth Appears to Others:
The Essence of Who Queen Mother Elizabeth Is:
Queen Mother Elizabeth's Emotions and Feelings:
How does Queen Mother Elizabeth Think and Communicate:
Queen Mother Elizabeth's Love and Romance:
Queen Mother Elizabeth's Drive and Ambition:
Current important phases/events in Queen Mother Elizabeth's life
---
Queen Mother Elizabeth's relationships
---
Astrological aspects and planetary data / tags for Queen Mother Elizabeth: Sun 11 Leo, Moon 14 Scorpio, Mercury 6 Leo, Venus 7 Cancer, Mars 25 Gemini, Jupiter 1 Sagittarius, Saturn 29 Sagittarius, Uranus 8 Sagittarius, Neptune 28 Gemini, Pluto 17 Gemini, Asc 22 Gemini, Mc 17 Aquarius, Sun Trine Uranus, Moon Square Midheaven, Sun Conjunct Mercury, Sun Square Moon, Sun Semi Square Mars, Sun Sesquiquadrate Saturn, Sun Semi Square Neptune, Moon Semi Square Saturn, Moon Sesquiquadrate Neptune, Moon Quincunx Pluto, Mercury Semi Sextile Venus, Mercury Trine Uranus, Mercury Semi Square Ascendant, Venus Quincunx Uranus, Mars Opposition Saturn, Mars Conjunct Neptune, Mars Conjunct Ascendant, Jupiter Semi Sextile Saturn, Jupiter Quincunx Neptune, Saturn Opposition Neptune, Saturn Semi Square Midheaven, Neptune Conjunct Ascendant, Pluto Conjunct Ascendant, Pluto Trine Midheaven
Categories related to Queen Mother Elizabeth: Queen mothers, August 4 births, 2002 deaths, Breast cancer survivors, Dames Grand Cross of the Order of St John, Grand Crosses of the Order of the Sun of Peru, Grand Croix of the Légion dhonneur, People from Hitchin, Colorectal cancer survivors, Windsor Castle, Grand Crosses of the Order of the Crown (Romania), British Anglicans, House of Windsor, 1900 births, Victoria Medal of Honour (Horticulture) recipients, Women centenarians, Grand Cordons of the Order of the Precious Crown, Recipients of the Royal Victorian Chain, Recipients of the War Cross with Sword (Norway), Daughters of British earls, Queen Elizabeth The Queen Mother, 19th-century British people, 20th-century British people, 21st-century British people, 19th-century British women, 20th-century British women, 21st-century British women, Bowes-Lyon family, British centenarians, Wives of British princes, British royal consorts, British women in World War II, Chancellors of the University of Dundee, Chancellors of the University of London, Companions of the Order of the Crown of India, Dames Grand Cross of the Order of the British Empire, Dames Grand Cross of the Royal Victorian Order, Double dames, Honorary Companions of the Order of Canada, Jewellery collectors, Ladies of the Garter, Ladies of the Thistle, Members of the Order of New Zealand, Members of the Royal Red Cross, Grand Crosses of the Order of St. Sava, Duchesses of York, George VI, Honorary air commodores, Indian empresses, Lords Warden of the Cinque Ports, People from Angus, Burials at St Georges Chapel