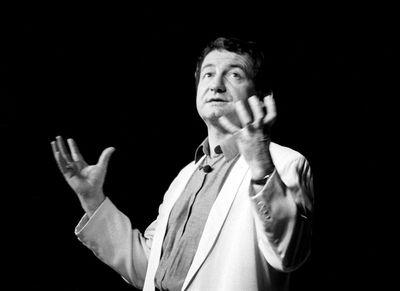 Pantin, Île-de-France, France
---
About Pierre Desproges
---
Pierre Desproges (9 May 1939 – 18 April 1988) was a French humorist. He was born in Pantin, Seine-Saint-Denis. According to himself, he made no significant achievements before the age of 30. From 1967 to 1970, he worked as: life insurance salesman, opinion pool investigator, "lonely hearts" columnist, horse racing forecaster, and sales manager for a styrofoam beam company.
External Links:
Birth Chart and Planetary Positions of Pierre Desproges
---
Astrological portrait of Pierre Desproges
---
Here you will read about qualities of Pierre Desproges that may be familiar to you as well as a few that might seem new. Together the various features listed below, comprise an astrological portrait of Pierre Desproges as a unique person
For a more detailed analysis, check out Astro Reports.
How Pierre Desproges Appears to Others:
The Essence of Who Pierre Desproges Is:
Pierre Desproges's Emotions and Feelings:
How does Pierre Desproges Think and Communicate:
Pierre Desproges's Love and Romance:
Pierre Desproges's Drive and Ambition:
Current important phases/events in Pierre Desproges's life
---
Pierre Desproges's relationships
---
Astrological aspects and planetary data / tags for Pierre Desproges: Sun 18 Taurus, Moon 27 Capricorn, Mercury 22 Aries, Venus 16 Aries, Mars 24 Capricorn, Jupiter 29 Pisces, Saturn 24 Aries, Uranus 17 Taurus, Neptune 20 Virgo, Pluto 29 Cancer, Asc 23 Virgo, Mc 22 Gemini, Sun Trine Neptune, Moon Trine Ascendant, Mercury Quincunx Neptune, Moon Opposition Pluto, Moon Square Saturn, Moon Conjunct Mars, Mercury Conjunct Saturn, Mercury Quincunx Ascendant, Mercury Conjunct Venus, Moon Square Mercury, Mercury Sextile Midheaven, Sun Semi Sextile Venus, Sun Conjunct Uranus, Moon Sextile Jupiter, Mercury Square Mars, Venus Semi Sextile Uranus, Mars Square Saturn, Mars Trine Neptune, Mars Opposition Pluto, Mars Trine Ascendant, Mars Quincunx Midheaven, Jupiter Trine Pluto, Saturn Square Pluto, Saturn Quincunx Ascendant, Saturn Sextile Midheaven, Uranus Trine Neptune, Neptune Conjunct Ascendant, Neptune Square Midheaven, Ascendant Square Midheaven
Categories related to Pierre Desproges: Deaths from cancer in France, Deaths from lung cancer, May 9 births, 1988 deaths, French television presenters, French radio personalities, 1939 births, French comedians, Burials at Père Lachaise Cemetery, French satirists, Lycée Carnot alumni, People from Pantin, French stand-up comedians
Photo attribution: Roland Godefroy, Own work