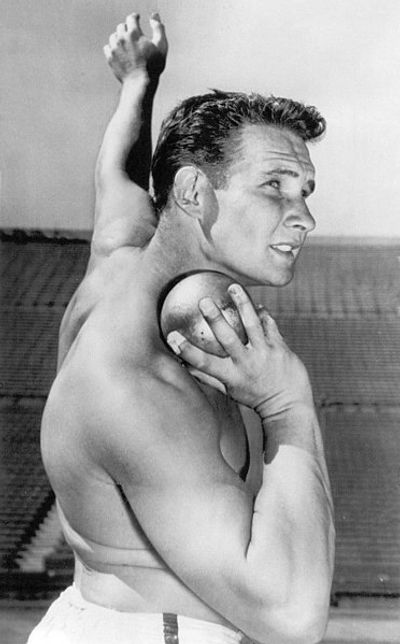 Santa Monica, California, United States
---
About Parry O'Brien
---
William Patrick "Parry" O'Brien (January 28, 1932 – April 21, 2007) was an American shot put champion. He competed in four consecutive Summer Olympics where he won two gold medals (1952, 1956) and one silver medal (1960). In his last Olympic competition (1964) he placed fourth. For all of these accomplishments, O'Brien was inducted into the IAAF and U.S. Olympic halls of fame.
External Links:
Birth Chart and Planetary Positions of Parry O'Brien
---
Astrological portrait of Parry O'Brien
---
Here you will read about qualities of Parry O'Brien that may be familiar to you as well as a few that might seem new. Together the various features listed below, comprise an astrological portrait of Parry O'Brien as a unique person
For a more detailed analysis, check out Astro Reports.
How Parry O'Brien Appears to Others:
The Essence of Who Parry O'Brien Is:
Parry O'Brien's Emotions and Feelings:
How does Parry O'Brien Think and Communicate:
Parry O'Brien's Love and Romance:
Parry O'Brien's Drive and Ambition:
Current important phases/events in Parry O'Brien's life
---
Parry O'Brien's relationships
---
Astrological aspects and planetary data / tags for Parry O'Brien: Sun 7 Aquarius, Moon 20 Libra, Mercury 19 Capricorn, Venus 12 Pisces, Mars 8 Aquarius, Jupiter 18 Leo, Saturn 27 Capricorn, Uranus 15 Aries, Neptune 7 Virgo, Pluto 20 Cancer, Asc 17 Leo, Mc 12 Taurus, Sun Square Midheaven, Mercury Square Uranus, Sun Conjunct Mars, Moon Opposition Uranus, Mercury Quincunx Jupiter, Mercury Quincunx Ascendant, Mercury Opposition Pluto, Sun Quincunx Neptune, Moon Square Mercury, Moon Square Pluto, Moon Sextile Ascendant, Moon Sextile Jupiter, Moon Semi Square Neptune, Mercury Sesquiquadrate Neptune, Venus Semi Square Saturn, Venus Opposition Neptune, Venus Sextile Midheaven, Mars Quincunx Neptune, Mars Square Midheaven, Jupiter Trine Uranus, Jupiter Semi Sextile Pluto, Jupiter Conjunct Ascendant, Uranus Square Pluto, Uranus Trine Ascendant, Neptune Semi Square Pluto, Neptune Trine Midheaven
Categories related to Parry O'Brien: 2007 deaths, California, Pan American Games gold medalists for the United States, January 28 births, Olympic track and field athletes of the United States, Track and field athletes from California, Olympic silver medalists for the United States in track and field, Pan American Games medalists in athletics (track and field), 1932 births, World record setters in athletics (track and field), University of Southern California alumni, American male shot putters, Olympic gold medalists for the United States in track and field, Sportspeople from Santa Monica, Athletes (track and field) at the 1952 Summer Olympics, Athletes (track and field) at the 1956 Summer Olympics, James E. Sullivan Award recipients, American masters athletes, Medalists at the 1956 Summer Olympics, Medalists at the 1960 Summer Olympics, Athletes (track and field) at the 1960 Summer Olympics, Medalists at the 1952 Summer Olympics, Athletes (track and field) at the 1964 Summer Olympics, Athletes (track and field) at the 1959 Pan American Games, Sports deaths in California, Athletes (track and field) at the 1955 Pan American Games
Photo attribution: Unknown author (Associated Press), [1]