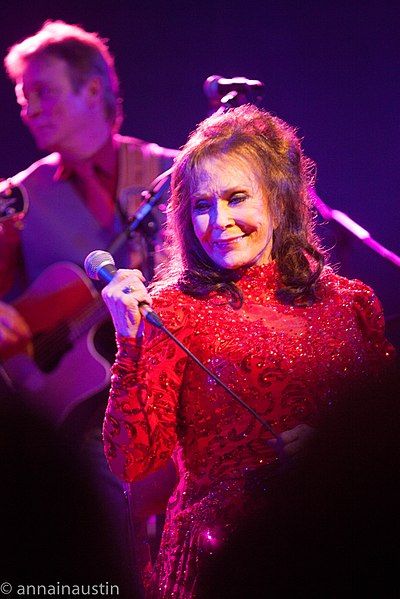 West Van Lear, Kentucky, United States
---
About Loretta Lynn
---
Loretta Lynn (née Webb; born April 14, 1932) is an American singer songwriter. In a career which spans six decades in country music, Lynn has released multiple gold albums. She is famous for hits such as "You Ain't Woman Enough (To Take My Man)", "Don't Come Home A-Drinkin' (With Lovin' on Your Mind)", "One's on the Way", "Fist City" and "Coal Miner's Daughter" along with the 1980 biographical film of the same name.
External Links:
Birth Chart and Planetary Positions of Loretta Lynn
---
Astrological portrait of Loretta Lynn
---
Here you will read about qualities of Loretta Lynn that may be familiar to you as well as a few that might seem new. Together the various features listed below, comprise an astrological portrait of Loretta Lynn as a unique person
For a more detailed analysis, check out Astro Reports.
How Loretta Lynn Appears to Others:
The Essence of Who Loretta Lynn Is:
Loretta Lynn's Emotions and Feelings:
How does Loretta Lynn Think and Communicate:
Loretta Lynn's Love and Romance:
Loretta Lynn's Drive and Ambition:
Current important phases/events in Loretta Lynn's life
---
Loretta Lynn's relationships
---
Astrological aspects and planetary data / tags for Loretta Lynn: Sun 24 Aries, Moon 3 Leo, Mercury 17 Aries, Venus 10 Gemini, Mars 8 Aries, Jupiter 12 Leo, Saturn 4 Aquarius, Uranus 19 Aries, Neptune 5 Virgo, Pluto 19 Cancer, Asc 17 Virgo, Mc 16 Gemini, Mercury Conjunct Uranus, Sun Square Pluto, Mercury Square Pluto, Mercury Quincunx Ascendant, Moon Opposition Saturn, Mercury Sextile Midheaven, Sun Semi Square Venus, Sun Conjunct Uranus, Moon Semi Sextile Neptune, Moon Semi Square Ascendant, Moon Semi Square Midheaven, Mercury Trine Jupiter, Venus Sextile Mars, Venus Sextile Jupiter, Venus Square Neptune, Venus Conjunct Midheaven, Mars Trine Jupiter, Jupiter Sextile Midheaven, Saturn Quincunx Neptune, Saturn Sesquiquadrate Ascendant, Saturn Sesquiquadrate Midheaven, Uranus Sesquiquadrate Neptune, Uranus Square Pluto, Uranus Quincunx Ascendant, Uranus Sextile Midheaven, Neptune Semi Square Pluto, Pluto Sextile Ascendant, Ascendant Square Midheaven
Categories related to Loretta Lynn: Living people, Washington, 20th-century American guitarists, 20th-century American women singers, 21st-century American women singers, April 14 births, American people of Irish descent, Kentucky, American female country singers, 1932 births, American country singer-songwriters, 20th-century American women guitarists, 21st-century American women guitarists, 21st-century American guitarists, Country musicians from Kentucky, Singers from Kentucky, Songwriters from Kentucky, American people of Cherokee descent, Stroke survivors, Presidential Medal of Freedom recipients, Feminist musicians, Decca Records artists, Kentucky women singers, Age controversies, Writers from Kentucky, Guitarists from Kentucky, American female songwriters, Country Music Hall of Fame inductees, Grand Ole Opry members, Singers from Washington (state), Guitarists from Washington (state), People from Johnson County, Songwriters from Washington (state), Grammy Lifetime Achievement Award winners, Kennedy Center honorees, Loretta Lynn, Musicians from Appalachia, People from Whatcom County, Third Man Records artists
Photo attribution: Anna Hanks from Austin, Texas, USA, Loretta Lynn SXSW 2016 -8842.jpg