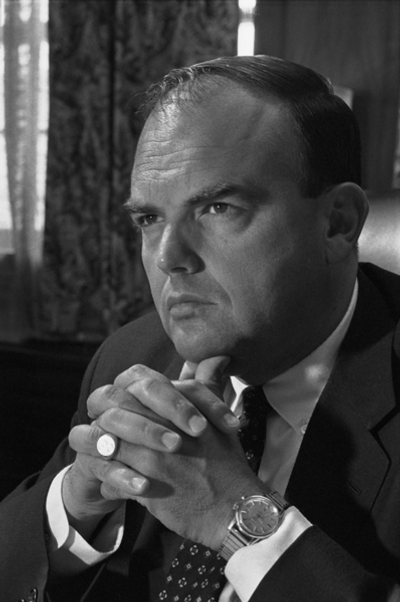 Tacoma, Washington, United States
---
About John Ehrlichman
---
John Daniel Ehrlichman (/ˈɜːrlɪkmən/; March 20, 1925 – February 14, 1999) was counsel and Assistant to the President for Domestic Affairs under President Richard Nixon. Ehrlichman was an important influence on Nixon's domestic policy, coaching him on issues and enlisting his support for environmental initiatives.
External Links:
Birth Chart and Planetary Positions of John Ehrlichman
---
Astrological portrait of John Ehrlichman
---
Here you will read about qualities of John Ehrlichman that may be familiar to you as well as a few that might seem new. Together the various features listed below, comprise an astrological portrait of John Ehrlichman as a unique person
For a more detailed analysis, check out Astro Reports.
How John Ehrlichman Appears to Others:
The Essence of Who John Ehrlichman Is:
John Ehrlichman's Emotions and Feelings:
How does John Ehrlichman Think and Communicate:
John Ehrlichman's Love and Romance:
John Ehrlichman's Drive and Ambition:
Current important phases/events in John Ehrlichman's life
---
John Ehrlichman's relationships
---
Astrological aspects and planetary data / tags for John Ehrlichman: Sun 0 Aries, Moon 17 Aquarius, Mercury 14 Aries, Venus 21 Pisces, Mars 28 Taurus, Jupiter 18 Capricorn, Saturn 13 Scorpio, Uranus 21 Pisces, Neptune 20 Leo, Pluto 11 Cancer, Asc 28 Scorpio, Mc 18 Virgo, Moon Opposition Neptune, Moon Quincunx Midheaven, Sun Trine Ascendant, Moon Square Saturn, Mercury Square Pluto, Mercury Quincunx Saturn, Sun Sextile Mars, Sun Semi Square Moon, Sun Sesquiquadrate Saturn, Moon Sextile Mercury, Moon Semi Sextile Jupiter, Mercury Semi Square Mars, Mercury Square Jupiter, Mercury Sesquiquadrate Ascendant, Venus Sextile Jupiter, Venus Conjunct Uranus, Venus Quincunx Neptune, Venus Opposition Midheaven, Mars Semi Square Pluto, Mars Opposition Ascendant, Jupiter Sextile Uranus, Jupiter Quincunx Neptune, Jupiter Trine Midheaven, Saturn Trine Pluto, Uranus Quincunx Neptune, Uranus Opposition Midheaven, Neptune Semi Sextile Midheaven, Pluto Sesquiquadrate Ascendant
Categories related to John Ehrlichman: University of California, Los Angeles alumni, Washington, March 20 births, Stanford Law School alumni, American male non-fiction writers, American people of Jewish descent, United States Army officers, Deaths from diabetes, 20th-century American lawyers, Recipients of the Distinguished Flying Cross (United States), Washington (state) Republicans, 20th-century American non-fiction writers, People convicted of obstruction of justice, American memoirists, 1999 deaths, Distinguished Eagle Scouts, 20th-century memoirists, Georgia (U.S. state) Republicans, Washington (state) lawyers, Nixon administration personnel, White House Counsels, American Christian Scientists, Writers from Tacoma, American perjurers, Military personnel from Tacoma, American army personnel of World War II, 1925 births, Lawyers disbarred in the Watergate scandal, People convicted in the Watergate scandal, Drug policy of the United States, Washington (state) politicians convicted of crimes