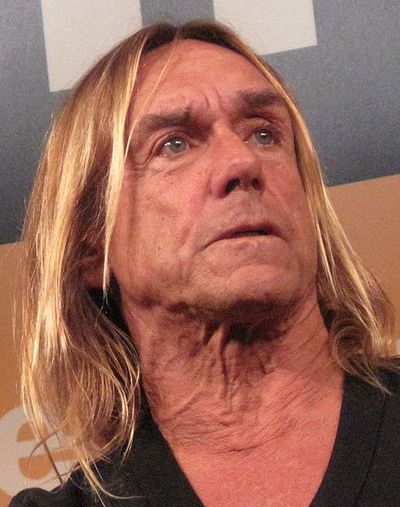 James Newell Osterberg, Jr.
Muskegon, Michigan, United States
---
About Iggy Pop
---
James Newell Osterberg Jr. (born April 21, 1947), better known as Iggy Pop, is an American singer, songwriter, musician, and record producer. Designated the "Godfather of Punk", he was the vocalist and lyricist of influential proto-punk band the Stooges, who were formed in 1967 and have disbanded and reunited multiple times since.
External Links:
Birth Chart and Planetary Positions of Iggy Pop
---
Astrological portrait of Iggy Pop
---
Here you will read about qualities of Iggy Pop that may be familiar to you as well as a few that might seem new. Together the various features listed below, comprise an astrological portrait of Iggy Pop as a unique person
For a more detailed analysis, check out Astro Reports.
How Iggy Pop Appears to Others:
The Essence of Who Iggy Pop Is:
Iggy Pop's Emotions and Feelings:
How does Iggy Pop Think and Communicate:
Iggy Pop's Love and Romance:
Iggy Pop's Drive and Ambition:
Current important phases/events in Iggy Pop's life
---
Iggy Pop's relationships
---
Astrological aspects and planetary data / tags for Iggy Pop: Sun 0 Taurus, Moon 7 Taurus, Mercury 8 Aries, Venus 25 Pisces, Mars 7 Aries, Jupiter 25 Scorpio, Saturn 2 Leo, Uranus 19 Gemini, Neptune 8 Libra, Pluto 10 Leo, Asc 29 Cancer, Mc 12 Aries, Sun Conjunct Moon, Sun Square Ascendant, Mercury Opposition Neptune, Moon Square Pluto, Sun Square Saturn, Moon Semi Sextile Mercury, Moon Semi Sextile Mars, Moon Quincunx Neptune, Mercury Conjunct Mars, Mercury Sesquiquadrate Jupiter, Mercury Trine Pluto, Mercury Conjunct Midheaven, Venus Trine Jupiter, Venus Sesquiquadrate Pluto, Venus Trine Ascendant, Mars Sesquiquadrate Jupiter, Mars Opposition Neptune, Mars Trine Pluto, Mars Conjunct Midheaven, Jupiter Semi Square Neptune, Jupiter Trine Ascendant, Jupiter Sesquiquadrate Midheaven, Saturn Semi Square Uranus, Saturn Conjunct Ascendant, Neptune Sextile Pluto, Neptune Opposition Midheaven, Pluto Trine Midheaven
Categories related to Iggy Pop: Living people, American people of German descent, A&M Records artists, RCA Records artists, 20th-century American singers, 21st-century American singers, American people of English descent, Michigan, American people of Irish descent, 1947 births, April 21 births, American male singers, University of Michigan alumni, American people of Norwegian descent, Hansa Records artists, American people of Danish descent, American punk rock singers, Male actors of German descent, Chrysalis Records artists, I.R.S. Records artists, Fat Possum Records artists, Songwriters from Michigan, Male actors from Michigan, Singers from Michigan, Commandeurs of the Ordre des Arts et des Lettres, Protopunk musicians, People from Ypsilanti, Musicians from Ann Arbor, Arista Records artists, People from Muskegon, Radar Records artists, Virgin Records artists, French-language singers of the United States, Kerrang! Awards winners, Music of Ann Arbor, The Stooges members, Freak artists
Photo attribution: Brenden, originally posted to Flickr as IMG_2180