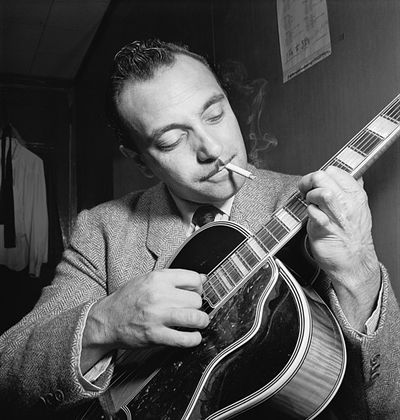 Liberchies, Wallonia, Belgium
---
About Django Reinhardt
---
Jean Reinhardt (23 January 1910 – 16 May 1953), known to all by his Romani nickname Django (French: [dʒãŋɡo ʁɛjnaʁt] or [dʒɑ̃ɡo ʁenɑʁt]), was a Belgian-born Romani-French jazz guitarist and composer. He was the first major jazz talent to emerge from Europe and remains the most significant.
External Links:
Birth Chart and Planetary Positions of Django Reinhardt
---
Astrological portrait of Django Reinhardt
---
Here you will read about qualities of Django Reinhardt that may be familiar to you as well as a few that might seem new. Together the various features listed below, comprise an astrological portrait of Django Reinhardt as a unique person
For a more detailed analysis, check out Astro Reports.
How Django Reinhardt Appears to Others:
The Essence of Who Django Reinhardt Is:
Django Reinhardt's Emotions and Feelings:
How does Django Reinhardt Think and Communicate:
Django Reinhardt's Love and Romance:
Django Reinhardt's Drive and Ambition:
Current important phases/events in Django Reinhardt's life
---
Django Reinhardt's relationships
---
Astrological aspects and planetary data / tags for Django Reinhardt: Sun 2 Aquarius, Moon 9 Cancer, Mercury 8 Aquarius, Venus 0 Pisces, Mars 0 Taurus, Jupiter 14 Libra, Saturn 17 Aries, Uranus 21 Capricorn, Neptune 17 Cancer, Pluto 25 Gemini, Asc 19 Cancer, Mc 20 Pisces, Moon Square Jupiter, Sun Conjunct Mercury, Moon Quincunx Mercury, Sun Semi Sextile Venus, Sun Square Mars, Sun Semi Square Midheaven, Mercury Sesquiquadrate Pluto, Venus Sextile Mars, Venus Sesquiquadrate Jupiter, Venus Semi Square Saturn, Venus Sesquiquadrate Neptune, Jupiter Opposition Saturn, Jupiter Square Neptune, Jupiter Square Ascendant, Saturn Square Uranus, Saturn Square Neptune, Saturn Square Ascendant, Uranus Opposition Neptune, Uranus Opposition Ascendant, Uranus Sextile Midheaven, Neptune Conjunct Ascendant, Neptune Trine Midheaven, Pluto Square Midheaven, Ascendant Trine Midheaven
Categories related to Django Reinhardt: January 23 births, 20th-century guitarists, Musicians from Paris, People from Hainaut (province), Gypsy jazz guitarists, Continental jazz guitarists, Musicians with physical disabilities, 1910 births, 1953 deaths, People of Montmartre, Romani guitarists, Swing guitarists, Belgian jazz guitarists, Quintette du Hot Club de France members, Manouche people, Belgian Romani people, 20th-century European male musicians
Photo attribution: William P. Gottlieb, This image is available from the United States Library of Congress's Music Division under the digital ID gottlieb.07301.This tag does not indicate the copyright status of the attached work. A normal copyright tag is still required. See Commons:Licensing for more information.