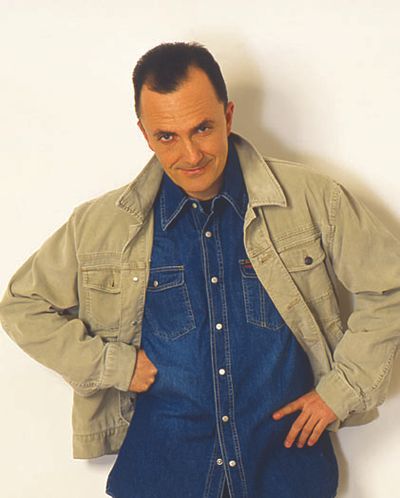 Santarcangelo di Romagna, Emilia-Romagna, Italy
---
About Daniele Luttazzi
---
Daniele Luttazzi (Italian pronunciation: [daˈnjɛle lutˈtattsi]; born January 26, 1961), real name Daniele Fabbri, is an Italian theater actor, writer, satirist, illustrator and singer/songwriter. His stage name is an homage to musician and actor Lelio Luttazzi. His favourite topics are politics, religion, sex and death.
External Links:
Birth Chart and Planetary Positions of Daniele Luttazzi
---
Astrological portrait of Daniele Luttazzi
---
Here you will read about qualities of Daniele Luttazzi that may be familiar to you as well as a few that might seem new. Together the various features listed below, comprise an astrological portrait of Daniele Luttazzi as a unique person
For a more detailed analysis, check out Astro Reports.
How Daniele Luttazzi Appears to Others:
The Essence of Who Daniele Luttazzi Is:
Daniele Luttazzi's Emotions and Feelings:
How does Daniele Luttazzi Think and Communicate:
Daniele Luttazzi's Love and Romance:
Daniele Luttazzi's Drive and Ambition:
Current important phases/events in Daniele Luttazzi's life
---
Daniele Luttazzi's relationships
---
Astrological aspects and planetary data / tags for Daniele Luttazzi: Sun 6 Aquarius, Moon 6 Gemini, Mercury 19 Aquarius, Venus 23 Pisces, Mars 0 Cancer, Jupiter 19 Capricorn, Saturn 22 Capricorn, Uranus 24 Leo, Neptune 11 Scorpio, Pluto 7 Virgo, Asc 9 Aquarius, Mc 2 Sagittarius, Moon Opposition Midheaven, Sun Conjunct Ascendant, Sun Trine Moon, Moon Trine Ascendant, Sun Quincunx Pluto, Sun Sextile Midheaven, Mercury Opposition Uranus, Moon Square Pluto, Sun Semi Square Venus, Moon Sesquiquadrate Jupiter, Moon Sesquiquadrate Saturn, Mercury Semi Sextile Jupiter, Venus Sextile Jupiter, Venus Sextile Saturn, Venus Quincunx Uranus, Venus Semi Square Ascendant, Mars Quincunx Midheaven, Jupiter Conjunct Saturn, Jupiter Sesquiquadrate Pluto, Jupiter Semi Square Midheaven, Saturn Quincunx Uranus, Saturn Sesquiquadrate Pluto, Neptune Sextile Pluto, Neptune Square Ascendant, Pluto Quincunx Ascendant
Categories related to Daniele Luttazzi: Living people, January 26 births, Italian male writers, People involved in plagiarism controversies, 1961 births, Kabarettists, Italian stand-up comedians, Italian satirists, People from Santarcangelo di Romagna
Photo attribution: Daniele Luttazzi, https://www.flickr.com/photos/147503650@N04/31330480163/in/dateposted-public/