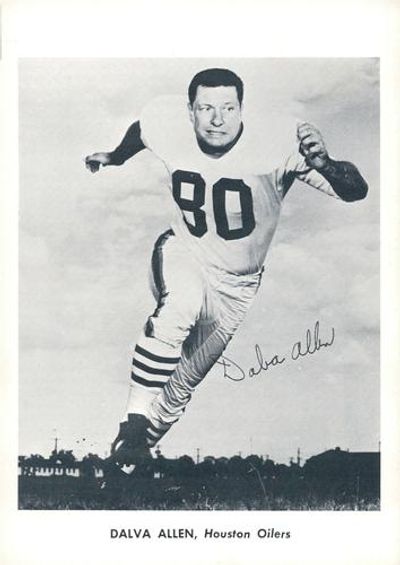 Gonzales, Texas, United States
---
About Dalva Allen
---
Dalva Ray Allen (January 13, 1935 – November 28, 2016) was an American football defensive end who played professionally in the American Football League (AFL). He played college football at the University of Houston. After being selected by the Los Angeles Rams in the 23rd round of the 1957 NFL Draft, Allen played three games for the Toronto Argonauts in the Canadian Football League during the 1957 season. He played for the Houston Oilers on their AFL championship teams in 1960 and 1961, and for the Oakland Raiders from 1962 through 1964.
Birth Chart and Planetary Positions of Dalva Allen
---
Astrological portrait of Dalva Allen
---
Here you will read about qualities of Dalva Allen that may be familiar to you as well as a few that might seem new. Together the various features listed below, comprise an astrological portrait of Dalva Allen as a unique person
For a more detailed analysis, check out Astro Reports.
How Dalva Allen Appears to Others:
The Essence of Who Dalva Allen Is:
Dalva Allen's Emotions and Feelings:
How does Dalva Allen Think and Communicate:
Dalva Allen's Love and Romance:
Dalva Allen's Drive and Ambition:
Current important phases/events in Dalva Allen's life
---
Dalva Allen's relationships
---
Astrological aspects and planetary data / tags for Dalva Allen: Sun 22 Capricorn, Moon 14 Taurus, Mercury 0 Aquarius, Venus 5 Aquarius, Mars 14 Libra, Jupiter 18 Scorpio, Saturn 26 Aquarius, Uranus 27 Aries, Neptune 14 Virgo, Pluto 25 Cancer, Asc 24 Aquarius, Mc 6 Sagittarius, Mercury Square Uranus, Sun Opposition Pluto, Moon Trine Neptune, Sun Square Uranus, Sun Sextile Jupiter, Mercury Conjunct Venus, Moon Quincunx Mars, Moon Opposition Jupiter, Sun Semi Square Midheaven, Mercury Sesquiquadrate Neptune, Venus Sextile Midheaven, Mars Semi Sextile Neptune, Saturn Sextile Uranus, Saturn Quincunx Pluto, Saturn Conjunct Ascendant, Uranus Sesquiquadrate Neptune, Uranus Square Pluto, Uranus Sextile Ascendant, Pluto Quincunx Ascendant
Categories related to Dalva Allen: 2016 deaths, Texas, American football defensive ends, Houston Oilers players, Toronto Argonauts players, January 13 births, Players of American football from Texas, Oakland Raiders players, American football defensive lineman, Houston Cougars football players, 1935 births, 1930s birth stubs, American Football League players, People from Gonzales, American Football League champions, Gonzales High School (Texas) alumni
Photo attribution: Jay Publishing, https://www.tradingcarddb.com/ViewSet.cfm/sid/105409/1961-Jay-Publishing-Houston-Oilers