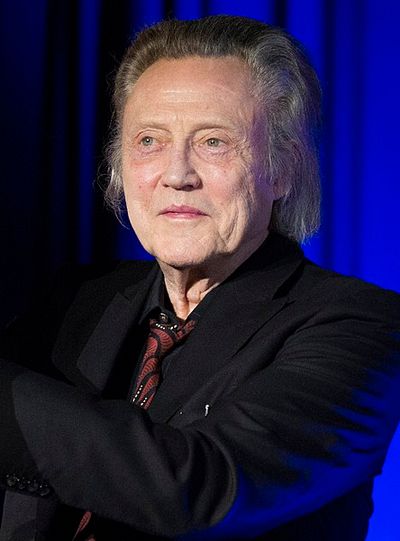 Astoria, New York, United States
---
About Christopher Walken
---
Christopher Walken (born Ronald Walken; March 31, 1943) is an American actor, singer, comedian, director, producer, screenwriter, and dancer, who has appeared in more than 100 films and television programs, including Annie Hall (1977), The Deer Hunter (1978), The Dogs of War (1980), The Dead Zone (1983), A View to a Kill (1985), King of New York (1990), Batman Returns (1992), True Romance (1993), Pulp Fiction (1994), Antz (1998), Vendetta (1999), Sleepy Hollow (1999), Joe Dirt (2001), Catch Me If You Can (2002), Click (2006), Hairspray (2007), Seven Psychopaths (2012), the first three Prophecy films, The Jungle Book (2016), and Irreplaceable You (2018). He has received a number of awards and nominations, including the Academy Award for Best Supporting Actor for The Deer Hunter. He was nominated for the same award and won BAFTA and Screen Actors Guild Awards for Catch Me If You Can. His films have grossed more than $1 billion in the United States.
External Links:
Birth Chart and Planetary Positions of Christopher Walken
---
Astrological portrait of Christopher Walken
---
Here you will read about qualities of Christopher Walken that may be familiar to you as well as a few that might seem new. Together the various features listed below, comprise an astrological portrait of Christopher Walken as a unique person
For a more detailed analysis, check out Astro Reports.
How Christopher Walken Appears to Others:
The Essence of Who Christopher Walken Is:
Christopher Walken's Emotions and Feelings:
How does Christopher Walken Think and Communicate:
Christopher Walken's Love and Romance:
Christopher Walken's Drive and Ambition:
Current important phases/events in Christopher Walken's life
---
Christopher Walken's relationships
---
Astrological aspects and planetary data / tags for Christopher Walken: Sun 9 Aries, Moon 7 Aquarius, Mercury 5 Aries, Venus 11 Taurus, Mars 16 Aquarius, Jupiter 15 Cancer, Saturn 8 Gemini, Uranus 1 Gemini, Neptune 0 Libra, Pluto 4 Leo, Asc 5 Sagittarius, Mc 23 Virgo, Moon Square Venus, Mercury Opposition Neptune, Sun Trine Ascendant, Moon Opposition Pluto, Sun Sextile Moon, Sun Trine Pluto, Sun Sextile Saturn, Sun Conjunct Mercury, Moon Sextile Ascendant, Moon Trine Saturn, Mercury Trine Ascendant, Mercury Sextile Saturn, Sun Semi Sextile Venus, Moon Sextile Mercury, Moon Sesquiquadrate Midheaven, Mercury Sextile Uranus, Mercury Trine Pluto, Mars Quincunx Jupiter, Mars Sesquiquadrate Neptune, Jupiter Semi Square Uranus, Saturn Conjunct Uranus, Saturn Sextile Pluto, Saturn Opposition Ascendant, Uranus Trine Neptune, Uranus Sextile Pluto, Uranus Opposition Ascendant, Pluto Trine Ascendant
Categories related to Christopher Walken: Living people, American people of German descent, March 31 births, Connecticut, American male stage actors, American male film actors, 20th-century American male actors, American male voice actors, Male actors from New York City, American male musical theatre actors, American male soap opera actors, 21st-century American male actors, American male video game actors, Queens, Best Supporting Actor BAFTA Award winners, Hofstra University alumni, American male child actors, American people of Scottish descent, Male actors of German descent, People from Wilton, American male dancers, BAFTA winners (people), American Methodists, People from Astoria, American tap dancers, 1943 births, American male Shakespearean actors, People from Bayside, Outstanding Performance by a Male Actor in a Supporting Role Screen Actors Guild Award winners, American male comedy actors, Best Supporting Actor Academy Award winners
Photo attribution: Pierre Vogel, www.r7al.ch