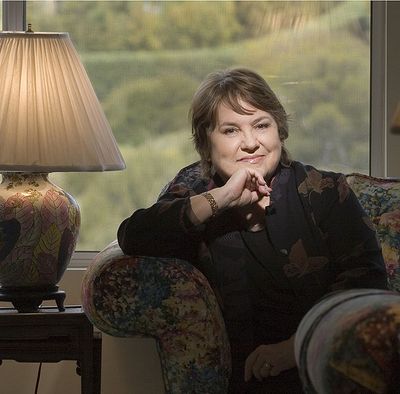 Pasadena, California, United States
---
About Carolyn See
---
Carolyn See (born Caroline Laws; January 13, 1934 – July 13, 2016) was a professor emerita of English at the University of California, Los Angeles, and the author of ten books, including the memoir, Dreaming: Hard Luck and Good Times in America, an advice book on writing, Making a Literary Life, and the novels There Will Never Be Another You, Golden Days, and The Handyman. See was also a book critic for the Washington Post for 27 years.
External Links:
Birth Chart and Planetary Positions of Carolyn See
---
Astrological portrait of Carolyn See
---
Here you will read about qualities of Carolyn See that may be familiar to you as well as a few that might seem new. Together the various features listed below, comprise an astrological portrait of Carolyn See as a unique person
For a more detailed analysis, check out Astro Reports.
How Carolyn See Appears to Others:
The Essence of Who Carolyn See Is:
Carolyn See's Emotions and Feelings:
How does Carolyn See Think and Communicate:
Carolyn See's Love and Romance:
Carolyn See's Drive and Ambition:
Current important phases/events in Carolyn See's life
---
Carolyn See's relationships
---
Astrological aspects and planetary data / tags for Carolyn See: Sun 23 Capricorn, Moon 0 Capricorn, Mercury 19 Capricorn, Venus 23 Aquarius, Mars 13 Aquarius, Jupiter 22 Libra, Saturn 15 Aquarius, Uranus 23 Aries, Neptune 12 Virgo, Pluto 23 Cancer, Asc 24 Gemini, Mc 5 Pisces, Sun Quincunx Ascendant, Mercury Square Uranus, Sun Opposition Pluto, Sun Square Uranus, Mercury Opposition Pluto, Sun Conjunct Mercury, Sun Semi Sextile Venus, Sun Square Jupiter, Sun Semi Square Midheaven, Moon Semi Square Mars, Moon Semi Square Saturn, Mercury Square Jupiter, Mercury Semi Square Midheaven, Venus Trine Jupiter, Venus Sextile Uranus, Venus Quincunx Pluto, Venus Trine Ascendant, Mars Conjunct Saturn, Mars Quincunx Neptune, Jupiter Opposition Uranus, Jupiter Square Pluto, Jupiter Trine Ascendant, Jupiter Sesquiquadrate Midheaven, Uranus Square Pluto, Uranus Sextile Ascendant, Pluto Semi Sextile Ascendant
Categories related to Carolyn See: 2016 deaths, University of California, Los Angeles alumni, California, 20th-century American novelists, 21st-century American novelists, 20th-century American women writers, 21st-century American women writers, American women novelists, California State University, American feminist writers, Los Angeles faculty, American women academics, American non-fiction writers, 20th-century American journalists, Women critics, Los Angeles, January 13 births, American expatriate academics, Pseudonymous writers, 21st-century American short story writers, American film critics, American literary critics, Journalists from California, 21st-century American journalists, American women short story writers, American memoirists, American women memoirists, The Washington Post journalists, Writers from Pasadena, American columnists, 20th-century American short story writers, Writers from Los Angeles, Pseudonymous women writers, Sex-positive feminists, Los Angeles Times people, American women columnists, American academics of English literature, Loyola Marymount University faculty, American expatriate writers in Canada, 1934 births, Newsday people, People from Pacific Palisades, 21st-century scholars
Photo attribution: Bipedalist, Own work