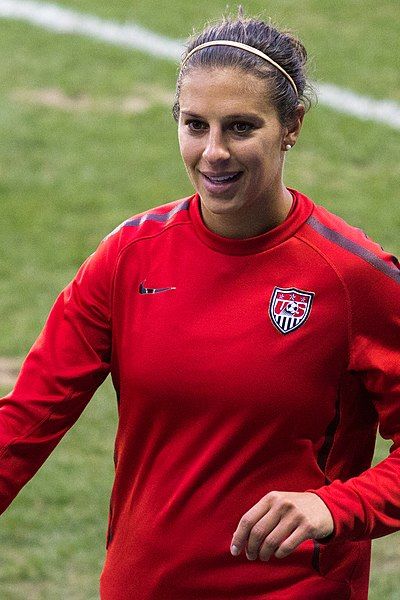 Fallbrook, California, United States
---
About Carli Lloyd
---
Carli Ellen Lloyd (born August 6, 1989) is an American indoor volleyball player, a member of the United States women's national volleyball team, a bronze medalist at the 2016 Summer Olympics, and a gold medalist of the 2015 Pan American Games. She played college women's volleyball at the University of California, Berkeley.
External Links:
Birth Chart and Planetary Positions of Carli Lloyd
---
Astrological portrait of Carli Lloyd
---
Here you will read about qualities of Carli Lloyd that may be familiar to you as well as a few that might seem new. Together the various features listed below, comprise an astrological portrait of Carli Lloyd as a unique person
For a more detailed analysis, check out Astro Reports.
How Carli Lloyd Appears to Others:
The Essence of Who Carli Lloyd Is:
Carli Lloyd's Emotions and Feelings:
How does Carli Lloyd Think and Communicate:
Carli Lloyd's Love and Romance:
Carli Lloyd's Drive and Ambition:
Current important phases/events in Carli Lloyd's life
---
Carli Lloyd's relationships
---
Astrological aspects and planetary data / tags for Carli Lloyd: Sun 14 Leo, Moon 14 Libra, Mercury 3 Virgo, Venus 16 Virgo, Mars 2 Virgo, Jupiter 1 Cancer, Saturn 8 Capricorn, Uranus 1 Capricorn, Neptune 10 Capricorn, Pluto 12 Scorpio, Asc 1 Capricorn, Mc 19 Libra, Sun Square Pluto, Sun Sextile Moon, Moon Conjunct Midheaven, Mercury Trine Ascendant, Moon Square Neptune, Mercury Trine Saturn, Sun Semi Square Jupiter, Sun Sesquiquadrate Uranus, Sun Sesquiquadrate Ascendant, Moon Semi Square Mars, Mercury Conjunct Mars, Mercury Sextile Jupiter, Mercury Trine Uranus, Mercury Semi Square Midheaven, Mars Sextile Jupiter, Mars Trine Uranus, Mars Trine Ascendant, Mars Semi Square Midheaven, Jupiter Opposition Uranus, Jupiter Opposition Ascendant, Saturn Conjunct Uranus, Saturn Conjunct Neptune, Saturn Conjunct Ascendant, Uranus Conjunct Ascendant, Neptune Sextile Pluto
Categories related to Carli Lloyd: Living people, California, August 6 births, Pan American Games gold medalists for the United States, Pan American Games bronze medalists for the United States, Expatriate volleyball players in Italy, Pan American Games competitors for the United States, Sportspeople from San Diego County, Olympic volleyball players of the United States, American expatriate sportspeople in Italy, Medalists at the 2016 Summer Olympics, American womens volleyball players, 1989 births, People from Fallbrook, Volleyball players at the 2011 Pan American Games, Pan American Games medalists in volleyball, Expatriate volleyball players in Brazil, Volleyball players at the 2015 Pan American Games, Volleyball players at the 2016 Summer Olympics, Olympic bronze medalists for the United States in volleyball, Expatriate volleyball players in Azerbaijan, Serie A1 (womens volleyball) players, California Golden Bears womens volleyball players, Setters, LGBT volleyball players, Lokomotiv Baku volleyball players
Photo attribution: Mentnafunangann, Own work