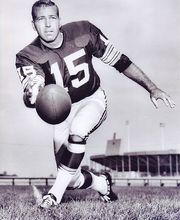 Montgomery, Alabama, United States
---
About Bart Starr
---
Bryan Bartlett Starr (January 9, 1934 – May 26, 2019) was a professional American football quarterback and coach. He played college football at the University of Alabama, and was selected by the Green Bay Packers in the 17th round of the 1956 NFL draft, where he played for them until 1971. Starr is the only quarterback in NFL history to lead a team to three consecutive league championships (1965–1967). He led his team to victories in the first two Super Bowls: I and II. As the Packers' head coach, he was less successful, compiling a 52–76–3 (.408) record from 1975 through 1983.
Birth Chart and Planetary Positions of Bart Starr
---
Astrological portrait of Bart Starr
---
Here you will read about qualities of Bart Starr that may be familiar to you as well as a few that might seem new. Together the various features listed below, comprise an astrological portrait of Bart Starr as a unique person
For a more detailed analysis, check out Astro Reports.
How Bart Starr Appears to Others:
The Essence of Who Bart Starr Is:
Bart Starr's Emotions and Feelings:
How does Bart Starr Think and Communicate:
Bart Starr's Love and Romance:
Bart Starr's Drive and Ambition:
Current important phases/events in Bart Starr's life
---
Bart Starr's relationships
---
Astrological aspects and planetary data / tags for Bart Starr: Sun 18 Capricorn, Moon 1 Scorpio, Mercury 12 Capricorn, Venus 23 Aquarius, Mars 10 Aquarius, Jupiter 21 Libra, Saturn 15 Aquarius, Uranus 23 Aries, Neptune 12 Virgo, Pluto 23 Cancer, Asc 23 Gemini, Mc 5 Pisces, Sun Opposition Pluto, Moon Trine Midheaven, Sun Square Uranus, Sun Conjunct Mercury, Sun Square Jupiter, Sun Semi Square Midheaven, Mercury Trine Neptune, Venus Trine Jupiter, Venus Sextile Uranus, Venus Quincunx Pluto, Venus Trine Ascendant, Mars Conjunct Saturn, Mars Quincunx Neptune, Mars Sesquiquadrate Ascendant, Jupiter Opposition Uranus, Jupiter Square Pluto, Jupiter Trine Ascendant, Jupiter Sesquiquadrate Midheaven, Uranus Square Pluto, Uranus Sextile Ascendant, Uranus Semi Square Midheaven, Pluto Semi Sextile Ascendant
Categories related to Bart Starr: 2019 deaths, Alabama Republicans, Alabama, January 9 births, Super Bowl champions, Alabama Crimson Tide football players, American football quarterbacks, Green Bay Packers players, National Football League announcers, Sportspeople from Montgomery, Players of American football from Alabama, Super Bowl MVPs, Pro Football Hall of Fame inductees, Green Bay Packers head coaches, National Football League general managers, National Football League players with retired numbers, Sidney Lanier High School alumni, Journalists from Alabama, Green Bay Packers general managers, 1934 births, Western Conference Pro Bowl players
Photo attribution: Unknown author, here