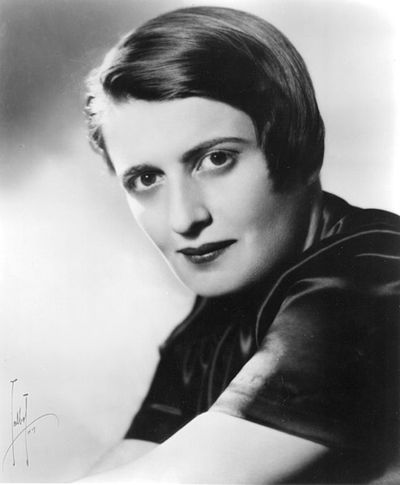 Alisa Zinov'yevna Rosenbaum
St Petersburg, St.-Petersburg, Russia
---
About Ayn Rand
---
Ayn Rand (/aɪn/; born Alisa Zinovyevna Rosenbaum;[b] February 2, [O.S. January 20] 1905 – March 6, 1982) was a Russian-American writer and philosopher. She is known for her two best-selling novels, The Fountainhead and Atlas Shrugged, and for developing a philosophical system she named Objectivism. Born and educated in Russia, she moved to the United States in 1926. She had a play produced on Broadway in 1935 and 1936. After two early novels that were initially unsuccessful, she achieved fame with her 1943 novel, The Fountainhead. In 1957, Rand published her best-known work, the novel Atlas Shrugged. Afterward, she turned to non-fiction to promote her philosophy, publishing her own periodicals and releasing several collections of essays until her death in 1982.
Birth Chart and Planetary Positions of Ayn Rand
---
Astrological portrait of Ayn Rand
---
Here you will read about qualities of Ayn Rand that may be familiar to you as well as a few that might seem new. Together the various features listed below, comprise an astrological portrait of Ayn Rand as a unique person
For a more detailed analysis, check out Astro Reports.
How Ayn Rand Appears to Others:
The Essence of Who Ayn Rand Is:
Ayn Rand's Emotions and Feelings:
How does Ayn Rand Think and Communicate:
Ayn Rand's Love and Romance:
Ayn Rand's Drive and Ambition:
Current important phases/events in Ayn Rand's life
---
Ayn Rand's relationships
---
Astrological aspects and planetary data / tags for Ayn Rand: Sun 13 Aquarius, Moon 20 Capricorn, Mercury 20 Capricorn, Venus 29 Pisces, Mars 9 Scorpio, Jupiter 24 Aries, Saturn 22 Aquarius, Uranus 2 Capricorn, Neptune 5 Cancer, Pluto 19 Gemini, Asc 2 Leo, Mc 27 Pisces, Moon Square Jupiter, Mercury Quincunx Pluto, Moon Conjunct Mercury, Sun Semi Square Venus, Sun Square Mars, Sun Semi Square Midheaven, Moon Semi Sextile Saturn, Moon Quincunx Pluto, Mercury Square Jupiter, Mercury Semi Sextile Saturn, Venus Square Uranus, Venus Trine Ascendant, Venus Conjunct Midheaven, Mars Trine Neptune, Mars Sesquiquadrate Midheaven, Jupiter Sextile Saturn, Saturn Sesquiquadrate Neptune, Saturn Trine Pluto, Uranus Opposition Neptune, Uranus Quincunx Ascendant, Pluto Semi Square Ascendant
Categories related to Ayn Rand: Activists from New York (state), 20th-century American novelists, 20th-century American women writers, American women novelists, Novelists from New York (state), 20th-century American dramatists and playwrights, 1982 deaths, Jewish women writers, American political philosophers, 20th-century American philosophers, American women philosophers, Philosophers from New York (state), American anti-communists, American atheists, People with acquired American citizenship, February 2 births, American science fiction writers, Women science fiction and fantasy writers, Writers from New York City, Pseudonymous writers, American essayists, Jewish American novelists, Jewish atheists, Jewish philosophers, American women essayists, 20th-century essayists, American people of Russian-Jewish descent, Screenwriters from New York (state), American women screenwriters, Epistemologists, American women activists, Exophonic writers, Pseudonymous women writers, Political philosophers, Objectivists, American women dramatists and playwrights, Jewish activists, Female critics of feminism, American political activists, American anti-fascists, American ethicists, Atheist philosophers, Metaphysicians, Russian screenwriters, Saint Petersburg State University alumni, 20th-century atheists, 20th-century Russian philosophers, Jewish American dramatists and playwrights, American abortion-rights activists, Critics of Marxism, Soviet emigrants to the United States, Russian dramatists and playwrights, 1905 births, American secularists, Russian science fiction writers, Aristotelian philosophers, People of the New Deal arts projects, American writers of Russian descent, Lung cancer survivors, American anti-socialists, Jewish anti-communists, Russian women novelists, Old Right (United States), American atheist writers, Burials at Kensico Cemetery, Imperial Russian Jews, Jewish anti-fascists, Imperial Russian emigrants to the United States, Writers from Saint Petersburg, Russian anti-communists, Russian women philosophers, Russian atheism activists, Ayn Rand, Imperial Russian atheists, Russian atheist writers, Russian women essayists
Photo attribution: English: Photo portrait credited to "Talbot" (though not on original dust jacket). Published by the Bobbs-Merrill Company., English: Scan via rohrbachlibrary.wordpress.com (direct link to jpg). The portrait as originally published on the dust jacket of The Fountainhead can be seen at this listing on Worthpoint.