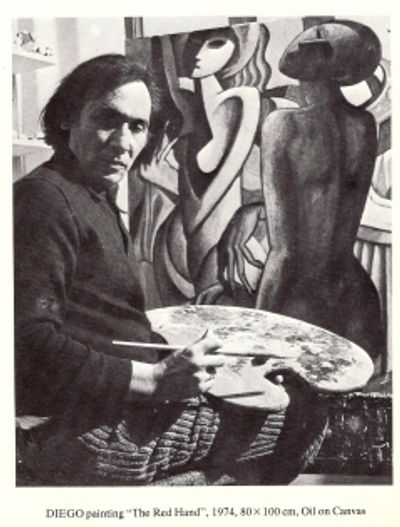 Gasperina, Calabria, Italy
---
About Antonio Diego Voci
---
Antonio Diego Voci (VOH-chee 1920–1985) was an internationally collected Italian figurative artist with the largest group of owners of his works residing in Switzerland, England, Germany, Italy, Canada and the US; as well as various works scattered the world over. Although constantly drawing or painting from childhood to the day he succumbed to lung cancer, Diego's most productive period was the last quarter century of his life which began when he met Helga Drössler in January 1960 in Paris. A significant turning point in Diego's career, Diego said, "My life took on new meaning. I became more." Helga who became Diego's wife, lover, best friend and confidant, published seven chapters of her life with Diego on Artifact Collectors. Within those 25 abundant years Diego created 4000 oils, mostly on canvas, and many thousands of drawings.
External Links:
Birth Chart and Planetary Positions of Antonio Diego Voci
---
Astrological portrait of Antonio Diego Voci
---
Here you will read about qualities of Antonio Diego Voci that may be familiar to you as well as a few that might seem new. Together the various features listed below, comprise an astrological portrait of Antonio Diego Voci as a unique person
For a more detailed analysis, check out Astro Reports.
How Antonio Diego Voci Appears to Others:
The Essence of Who Antonio Diego Voci Is:
Antonio Diego Voci's Emotions and Feelings:
How does Antonio Diego Voci Think and Communicate:
Antonio Diego Voci's Love and Romance:
Antonio Diego Voci's Drive and Ambition:
Current important phases/events in Antonio Diego Voci's life
---
Antonio Diego Voci's relationships
---
Astrological aspects and planetary data / tags for Antonio Diego Voci: Sun 17 Leo, Moon 24 Gemini, Mercury 29 Cancer, Venus 27 Leo, Mars 14 Scorpio, Jupiter 26 Leo, Saturn 11 Virgo, Uranus 4 Pisces, Neptune 11 Leo, Pluto 8 Cancer, Asc 4 Libra, Mc 4 Cancer, Sun Square Mars, Sun Conjunct Neptune, Sun Semi Square Ascendant, Sun Semi Square Midheaven, Moon Sextile Venus, Moon Sextile Jupiter, Moon Semi Square Neptune, Venus Conjunct Jupiter, Mars Sextile Saturn, Mars Square Neptune, Saturn Semi Sextile Neptune, Saturn Sextile Pluto, Uranus Trine Pluto, Uranus Quincunx Ascendant, Uranus Trine Midheaven, Pluto Square Ascendant, Pluto Conjunct Midheaven, Ascendant Square Midheaven
Categories related to Antonio Diego Voci: 1985 deaths, Modern painters, August 10 births, 20th-century Italian painters, Italian male painters, 1920 births, Impressionism, Fauvism
Photo attribution: Helga Voci, Helga Voci