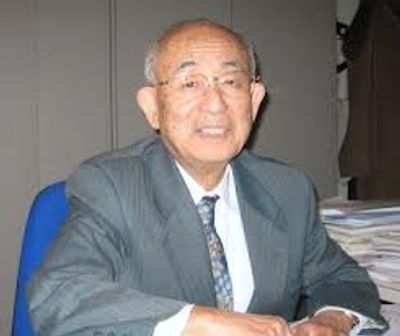 Yokohama, Kanagawa, Japan
---
About Akira Kōdate
---
Akira Kōdate (高達秋良、こうだて・あきら) was born in Kanagawa District, Japan on 6 October 1925. He is an engineer and a Japanese business manager, considered one of the greatest international experts in R&D and production management, as well as a master of lean thinking-related methodologies. Since 1953, he has been working as a consultant with the Japan Management Association (JMA) and JMA Consultants Inc, where he works as a principal consultant and technical advisor.
Birth Chart and Planetary Positions of Akira Kōdate
---
Astrological portrait of Akira Kōdate
---
Here you will read about qualities of Akira Kōdate that may be familiar to you as well as a few that might seem new. Together the various features listed below, comprise an astrological portrait of Akira Kōdate as a unique person
For a more detailed analysis, check out Astro Reports.
How Akira Kōdate Appears to Others:
The Essence of Who Akira Kōdate Is:
Akira Kōdate's Emotions and Feelings:
How does Akira Kōdate Think and Communicate:
Akira Kōdate's Love and Romance:
Akira Kōdate's Drive and Ambition:
Current important phases/events in Akira Kōdate's life
---
Akira Kōdate's relationships
---
Astrological aspects and planetary data / tags for Akira Kōdate: Sun 12 Libra, Moon 1 Gemini, Mercury 11 Libra, Venus 23 Scorpio, Mars 4 Libra, Jupiter 13 Capricorn, Saturn 12 Scorpio, Uranus 22 Pisces, Neptune 24 Leo, Pluto 14 Cancer, Sun Square Pluto, Mercury Square Pluto, Sun Conjunct Mercury, Sun Square Jupiter, Sun Semi Sextile Saturn, Mercury Semi Square Venus, Mercury Conjunct Mars, Mercury Square Jupiter, Mercury Semi Sextile Saturn, Mercury Semi Square Neptune, Venus Trine Uranus, Venus Square Neptune, Jupiter Sextile Saturn, Jupiter Opposition Pluto, Saturn Trine Pluto, Uranus Quincunx Neptune
Categories related to Akira Kōdate: 2018 deaths, October 6 births, 1925 births, Japanese mechanical engineers
Photo attribution: Giovannuzzir, I have been working with Mr Kodate for around 13 years to date. I took the photograph in Milan, while in the office