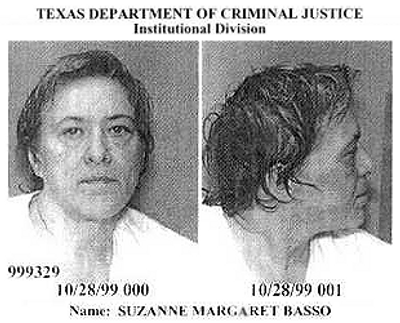 Schenectady, New York, United States
---
About Suzanne Basso
---
Suzanne Margaret "Sue" Basso (née Burns; May 15, 1954 – February 5, 2014) was an American woman who was one of six co-defendants convicted in the August 1998 torture and murder of Louis "Buddy" Musso, a mentally disabled man who was killed for his life insurance money. She was sentenced to death in October 1999. Basso was executed by lethal injection on February 5, 2014. Prior to her execution, Basso had been held at the Mountain View Unit in Gatesville, Texas, where all of the state's female death row inmates are incarcerated. At the time of this crime, Basso lived in Jacinto City, Texas, a Houston suburb.
Birth Chart and Planetary Positions of Suzanne Basso
---
Astrological portrait of Suzanne Basso
---
Here you will read about qualities of Suzanne Basso that may be familiar to you as well as a few that might seem new. Together the various features listed below, comprise an astrological portrait of Suzanne Basso as a unique person
For a more detailed analysis, check out Astro Reports.
How Suzanne Basso Appears to Others:
The Essence of Who Suzanne Basso Is:
Suzanne Basso's Emotions and Feelings:
How does Suzanne Basso Think and Communicate:
Suzanne Basso's Love and Romance:
Suzanne Basso's Drive and Ambition:
Current important phases/events in Suzanne Basso's life
---
Suzanne Basso's relationships
---
Astrological aspects and planetary data / tags for Suzanne Basso: Sun 24 Taurus, Moon 29 Libra, Mercury 2 Gemini, Venus 20 Gemini, Mars 8 Capricorn, Jupiter 28 Gemini, Saturn 4 Scorpio, Uranus 20 Cancer, Neptune 23 Libra, Pluto 22 Leo, Sun Square Pluto, Mercury Quincunx Saturn, Sun Quincunx Neptune, Sun Sesquiquadrate Mars, Mercury Semi Square Uranus, Venus Sesquiquadrate Saturn, Venus Semi Sextile Uranus, Venus Trine Neptune, Venus Sextile Pluto, Mars Sextile Saturn, Mars Sesquiquadrate Pluto, Jupiter Trine Neptune, Uranus Square Neptune, Neptune Sextile Pluto
Categories related to Suzanne Basso: 2014 deaths, New York, 1954 births, May 15 births, 20th-century American criminals, American people convicted of murder, 21st-century executions of American people, People executed for murder, American female murderers, American female criminals, People convicted of murder by Texas, People executed by Texas by lethal injection, People from Schenectady, 1998 murders in the United States, 21st-century executions by Texas, Executed American women, Women sentenced to death