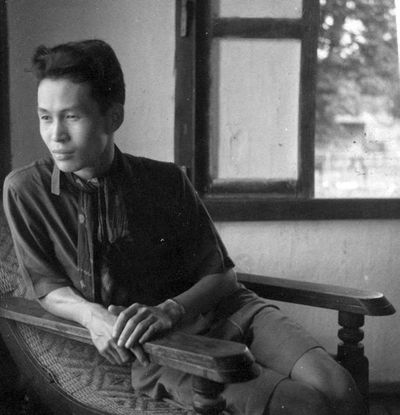 Kengtung District, Shan, Myanmar
---
About Sao Saimong
---
Sao Sāimöng or Sao Sāimöng Mangrāi (13 November 1913 – 14 July 1987) was a member of the princely family of Kengtung State. He was a government minister in Burma (now Myanmar) soon after independence; he was also a scholar, historian and linguist. His wife, Mi Mi Khaing, was also a scholar and writer.
Birth Chart and Planetary Positions of Sao Saimong
---
Astrological portrait of Sao Saimong
---
Here you will read about qualities of Sao Saimong that may be familiar to you as well as a few that might seem new. Together the various features listed below, comprise an astrological portrait of Sao Saimong as a unique person
For a more detailed analysis, check out Astro Reports.
How Sao Saimong Appears to Others:
The Essence of Who Sao Saimong Is:
Sao Saimong's Emotions and Feelings:
How does Sao Saimong Think and Communicate:
Sao Saimong's Love and Romance:
Sao Saimong's Drive and Ambition:
Current important phases/events in Sao Saimong's life
---
Sao Saimong's relationships
---
Astrological aspects and planetary data / tags for Sao Saimong: Sun 20 Scorpio, Moon 11 Taurus, Mercury 8 Sagittarius, Venus 28 Libra, Mars 23 Cancer, Jupiter 14 Capricorn, Saturn 16 Gemini, Uranus 3 Aquarius, Neptune 28 Cancer, Pluto 0 Cancer, Sun Trine Mars, Mercury Sesquiquadrate Mars, Venus Square Neptune, Venus Trine Pluto, Mars Conjunct Neptune, Jupiter Quincunx Saturn, Saturn Sesquiquadrate Uranus
Categories related to Sao Saimong: 1987 deaths, November 13 births, Cambridge, Fellows of Wolfson College, Government ministers of Myanmar, Burmese people of Shan descent, People from Shan State, University of Yangon alumni, 20th-century historians, 1913 births, People from Kengtung, Burmese historians, Burmese military personnel of World War II, Burmese monarchs, Tai history, Kengtung State
Photo attribution: Unknown authorUnknown author, https://plus.google.com/photos/104018878141195303675/albums/5153453844347417457