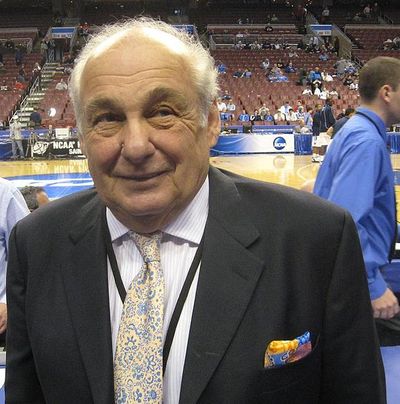 Hillside, New Jersey, United States
---
About Rollie Massimino
---
Roland Vincent Massimino (November 13, 1934 – August 30, 2017) was an American basketball coach. He served as the head men's basketball coach at Stony Brook University (1969–1971), Villanova University (1973–1992), the University of Nevada, Las Vegas (1992–1994), Cleveland State University (1996–2003), and at Northwood University's Florida campus, which was sold in 2014 to Keiser University (2006–2017).
External Links:
Birth Chart and Planetary Positions of Rollie Massimino
---
Astrological portrait of Rollie Massimino
---
Here you will read about qualities of Rollie Massimino that may be familiar to you as well as a few that might seem new. Together the various features listed below, comprise an astrological portrait of Rollie Massimino as a unique person
For a more detailed analysis, check out Astro Reports.
How Rollie Massimino Appears to Others:
The Essence of Who Rollie Massimino Is:
Rollie Massimino's Emotions and Feelings:
How does Rollie Massimino Think and Communicate:
Rollie Massimino's Love and Romance:
Rollie Massimino's Drive and Ambition:
Current important phases/events in Rollie Massimino's life
---
Rollie Massimino's relationships
---
Astrological aspects and planetary data / tags for Rollie Massimino: Sun 20 Scorpio, Moon 15 Aquarius, Mercury 3 Scorpio, Venus 19 Scorpio, Mars 15 Virgo, Jupiter 7 Scorpio, Saturn 21 Aquarius, Uranus 28 Aries, Neptune 14 Virgo, Pluto 26 Cancer, Sun Conjunct Venus, Mercury Opposition Uranus, Mercury Conjunct Jupiter, Sun Square Saturn, Mercury Semi Square Mars, Venus Square Saturn, Mars Sesquiquadrate Uranus, Mars Conjunct Neptune, Uranus Sesquiquadrate Neptune, Uranus Square Pluto
Categories related to Rollie Massimino: New Jersey, 2017 deaths, American people of Italian descent, November 13 births, Deaths from lung cancer, American mens basketball players, High school basketball coaches in the United States, Rutgers University alumni, College mens basketball head coaches in the United States, National Collegiate Basketball Hall of Fame inductees, Deaths from cancer in Florida, Basketball coaches from New Jersey, Basketball players from New Jersey, Hillside High School (New Jersey) alumni, People from Hillside, Villanova Wildcats mens basketball coaches], Cleveland State Vikings mens basketball coaches, UNLV Runnin Rebels basketball coaches, Sportspeople from Union County, 1934 births, Vermont Catamounts mens basketball players, Penn Quakers mens basketball coaches, Stony Brook Seawolves mens basketball coaches, Northwood Seahawks mens basketball coaches
Photo attribution: Dealphungo, I took thie picture at the NCAA tournament in Philadelphia