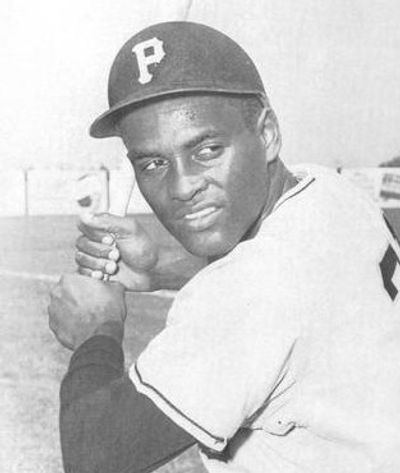 Carolina, Carolina, Puerto Rico
---
About Roberto Clemente
---
Roberto Enrique Clemente Walker[a] (Spanish pronunciation: [roˈβeɾto enˈrike kleˈmente (g)walˈkeɾ]; August 18, 1934 – December 31, 1972) was a Puerto Rican professional baseball right fielder who played 18 seasons in Major League Baseball (MLB) for the Pittsburgh Pirates. He was inducted into the National Baseball Hall of Fame in 1973, becoming both the first Latin American and Caribbean player to be enshrined. His untimely death established the precedent that, as an alternative to the five-year retirement period, a player who has been deceased for at least six months is eligible for entry into the Hall of Fame.
External Links:
Birth Chart and Planetary Positions of Roberto Clemente
---
Astrological portrait of Roberto Clemente
---
Here you will read about qualities of Roberto Clemente that may be familiar to you as well as a few that might seem new. Together the various features listed below, comprise an astrological portrait of Roberto Clemente as a unique person
For a more detailed analysis, check out Astro Reports.
How Roberto Clemente Appears to Others:
The Essence of Who Roberto Clemente Is:
Roberto Clemente's Emotions and Feelings:
How does Roberto Clemente Think and Communicate:
Roberto Clemente's Love and Romance:
Roberto Clemente's Drive and Ambition:
Current important phases/events in Roberto Clemente's life
---
Roberto Clemente's relationships
---
Astrological aspects and planetary data / tags for Roberto Clemente: Sun 25 Leo, Moon 2 Sagittarius, Mercury 17 Leo, Venus 1 Leo, Mars 22 Cancer, Jupiter 19 Libra, Saturn 24 Aquarius, Uranus 1 Taurus, Neptune 11 Virgo, Pluto 25 Cancer, Asc 27 Sagittarius, Mc 5 Libra, Moon Trine Venus, Moon Sextile Midheaven, Sun Opposition Saturn, Sun Trine Ascendant, Sun Semi Sextile Pluto, Moon Semi Square Jupiter, Moon Quincunx Uranus, Mercury Sextile Jupiter, Venus Square Uranus, Venus Conjunct Pluto, Mars Square Jupiter, Mars Quincunx Saturn, Mars Conjunct Pluto, Saturn Quincunx Pluto, Saturn Sextile Ascendant, Uranus Trine Ascendant, Neptune Semi Square Pluto, Pluto Quincunx Ascendant
Categories related to Roberto Clemente: Puerto Rico, August 18 births, Caribbean Series players, United States Marines, Cangrejeros de Santurce (baseball) players, Presidential Citizens Medal recipients, Major League Baseball players from Puerto Rico, Pittsburgh Pirates players, National League All-Stars, Congressional Gold Medal recipients, Puerto Rican expatriate baseball players in Canada, Puerto Rican United States Marines, Major League Baseball right fielders, Gold Glove Award winners, Major League Baseball players with retired numbers, Presidential Medal of Freedom recipients, 20th-century Baptists, World Series Most Valuable Player Award winners, National Baseball Hall of Fame inductees, Baptists from the United States, People from Carolina, National League batting champions, 1972 deaths, National League Most Valuable Player Award winners, United States Marine Corps reservists, 1934 births, Missing air passengers, Montreal Royals players, Victims of aviation accidents or incidents in 1972, Victims of aviation accidents or incidents in Puerto Rico
Photo attribution: Unknown author, Jay Publishing via https://www.tradingcarddb.com/Checklist.cfm/sid/59846 tradingcarddb.com]