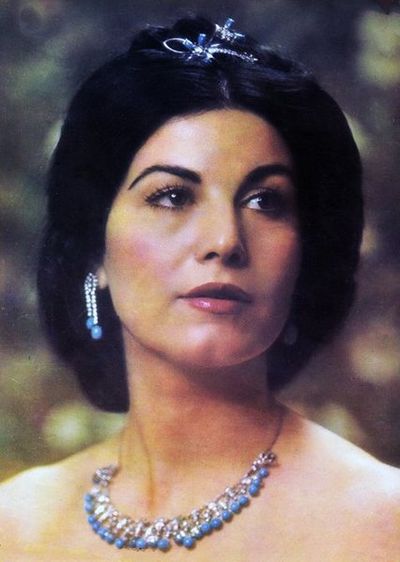 ---
About Pouri Banayi
---
Pouri Banayi[a] (Persian: پوری بنایی; born 11 October 1940) is an Iranian actress. She acted in more than 85 feature films between 1965 and 1979. During her years of acting before the Iranian revolution, she worked with directors such as Mehdi Reisfirooz, Samuel Khachikian, Masoud Kimiai, Farrokh Ghaffari, and Fereidoun Goleh. Her most memorable performances are in Iranian new wave films such as Masoud Kimiai's Qeysar in 1969 and Fereydun Gole's The Mandrake.
External Links:
Birth Chart and Planetary Positions of Pouri Banayi
---
Astrological portrait of Pouri Banayi
---
Here you will read about qualities of Pouri Banayi that may be familiar to you as well as a few that might seem new. Together the various features listed below, comprise an astrological portrait of Pouri Banayi as a unique person
For a more detailed analysis, check out Astro Reports.
How Pouri Banayi Appears to Others:
The Essence of Who Pouri Banayi Is:
Pouri Banayi's Emotions and Feelings:
How does Pouri Banayi Think and Communicate:
Pouri Banayi's Love and Romance:
Pouri Banayi's Drive and Ambition:
Current important phases/events in Pouri Banayi's life
---
Pouri Banayi's relationships
---
Astrological aspects and planetary data / tags for Pouri Banayi: Sun 17 Libra, Moon 23 Aquarius, Mercury 10 Scorpio, Venus 5 Virgo, Mars 3 Libra, Jupiter 13 Taurus, Saturn 13 Taurus, Uranus 25 Taurus, Neptune 26 Virgo, Pluto 4 Leo, Mercury Opposition Jupiter, Mercury Opposition Saturn, Sun Semi Square Venus, Mercury Semi Square Neptune, Venus Semi Sextile Mars, Venus Semi Sextile Pluto, Mars Sextile Pluto, Jupiter Conjunct Saturn, Jupiter Sesquiquadrate Neptune, Saturn Sesquiquadrate Neptune, Uranus Trine Neptune
Categories related to Pouri Banayi: Living people, October 11 births, Iran, 1940 births, 20th-century Iranian actresses, People from Arak
Photo attribution: اطلاعات هفتگی شماره 1898سال 1357خورشیدی, اطلاعات هفتگی شماره 1898سال 1357خورشیدی