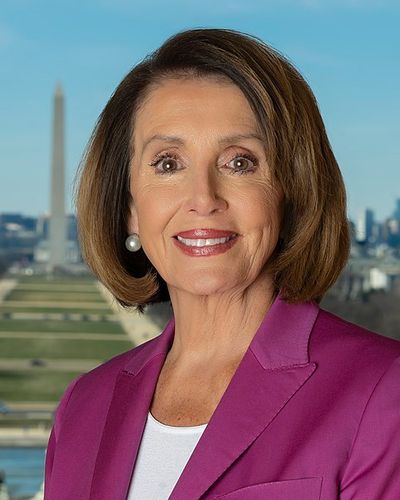 Nancy Patricia D'Alesandro
Baltimore, Maryland, United States
---
About Nancy Pelosi
---
Nancy Patricia Pelosi (/pəˈloʊsi/; née D'Alesandro; born March 26, 1940) is an American politician serving as a congresswoman from California, and is the two-time and current Speaker of the United States House of Representatives. A member of the Democratic Party, Pelosi is the only woman in U.S. history to serve as Speaker, and is the highest-ranking female elected official in United States history. She is also the current dean, or longest serving member, of the California congressional delegation. As House speaker, Pelosi is second in the presidential line of succession, immediately after the vice president.
External Links:
Birth Chart and Planetary Positions of Nancy Pelosi
---
Astrological portrait of Nancy Pelosi
---
Here you will read about qualities of Nancy Pelosi that may be familiar to you as well as a few that might seem new. Together the various features listed below, comprise an astrological portrait of Nancy Pelosi as a unique person
For a more detailed analysis, check out Astro Reports.
How Nancy Pelosi Appears to Others:
The Essence of Who Nancy Pelosi Is:
Nancy Pelosi's Emotions and Feelings:
How does Nancy Pelosi Think and Communicate:
Nancy Pelosi's Love and Romance:
Nancy Pelosi's Drive and Ambition:
Current important phases/events in Nancy Pelosi's life
---
Nancy Pelosi's relationships
---
Astrological aspects and planetary data / tags for Nancy Pelosi: Sun 5 Aries, Moon 17 Scorpio, Mercury 17 Pisces, Venus 20 Taurus, Mars 26 Taurus, Jupiter 17 Aries, Saturn 0 Taurus, Uranus 19 Taurus, Neptune 23 Virgo, Pluto 0 Leo, Asc 20 Leo, Mc 12 Taurus, Moon Opposition Venus, Moon Trine Mercury, Venus Conjunct Mars, Moon Opposition Uranus, Moon Quincunx Jupiter, Mercury Quincunx Ascendant, Moon Square Ascendant, Sun Semi Square Venus, Sun Semi Square Uranus, Sun Sesquiquadrate Ascendant, Mercury Sextile Venus, Mercury Semi Sextile Jupiter, Mercury Semi Square Saturn, Mercury Sextile Uranus, Mercury Sesquiquadrate Pluto, Venus Conjunct Uranus, Venus Trine Neptune, Venus Square Ascendant, Mars Conjunct Uranus, Mars Trine Neptune, Jupiter Semi Sextile Uranus, Jupiter Trine Ascendant, Saturn Square Pluto, Uranus Trine Neptune, Uranus Square Ascendant
Categories related to Nancy Pelosi: Living people, LGBT rights activists from the United States, 20th-century American women politicians, 20th-century American politicians, Women in California politics, California Democrats, 21st-century American politicians, Catholics from California, American people of Italian descent, March 26 births, American Roman Catholics, 21st-century American women politicians, Democratic Party members of the United States House of Representatives, Female members of the United States House of Representatives, Trinity Washington University alumni, Politicians from Baltimore, Catholics from Maryland, American women activists, 1940 births, Members of the United States House of Representatives from California, Women legislative speakers, Politicians from San Francisco, Women opposition leaders, Minority Leaders of the United States House of Representatives, Speakers of the United States House of Representatives, American people of Abruzzese descent, Nancy Pelosi, California Democratic Party chairs, Italian-American culture in Baltimore, Italian-American culture in California, Pelosi family
Photo attribution: United States House of Representatives, www.speaker.gov