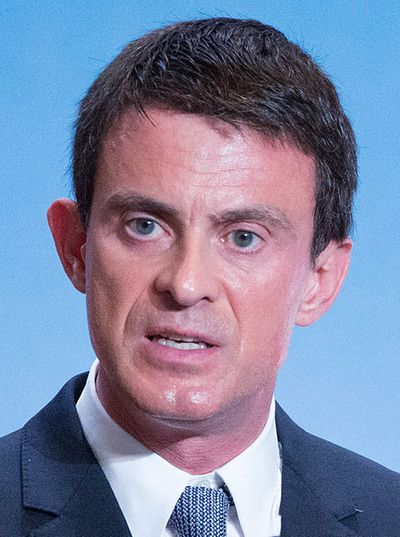 Barcelona, Catalonia, Spain
---
About Manuel Valls
---
Manuel Carlos Valls Galfetti (French: [manɥɛl kaʁlos vals ɡalfɛti], Catalan: [mənuˈɛl kaɾˈɫos ˈβaʎs ˈɡalˈfeti], Spanish: [maˈnwel ˈbals]; born 13 August 1962) is a French-Spanish politician who has served as a Barcelona city councillor since June 2019. He served as Prime Minister of France from 2014 until 2016 under president François Hollande.
External Links:
Birth Chart and Planetary Positions of Manuel Valls
---
Astrological portrait of Manuel Valls
---
Here you will read about qualities of Manuel Valls that may be familiar to you as well as a few that might seem new. Together the various features listed below, comprise an astrological portrait of Manuel Valls as a unique person
For a more detailed analysis, check out Astro Reports.
How Manuel Valls Appears to Others:
The Essence of Who Manuel Valls Is:
Manuel Valls's Emotions and Feelings:
How does Manuel Valls Think and Communicate:
Manuel Valls's Love and Romance:
Manuel Valls's Drive and Ambition:
Current important phases/events in Manuel Valls's life
---
Manuel Valls's relationships
---
Astrological aspects and planetary data / tags for Manuel Valls: Sun 20 Leo, Moon 22 Capricorn, Mercury 5 Virgo, Venus 5 Libra, Mars 24 Gemini, Jupiter 9 Pisces, Saturn 7 Aquarius, Uranus 0 Virgo, Neptune 10 Scorpio, Pluto 9 Virgo, Asc 24 Aquarius, Mc 10 Sagittarius, Sun Quincunx Moon, Mercury Conjunct Uranus, Mercury Opposition Jupiter, Sun Opposition Ascendant, Mercury Quincunx Saturn, Moon Quincunx Mars, Sun Sextile Mars, Sun Semi Square Venus, Moon Sesquiquadrate Mercury, Moon Semi Square Jupiter, Moon Sesquiquadrate Pluto, Moon Semi Sextile Ascendant, Moon Semi Square Midheaven, Mercury Semi Sextile Venus, Mercury Conjunct Pluto, Venus Trine Saturn, Mars Sesquiquadrate Saturn, Mars Sesquiquadrate Neptune, Mars Trine Ascendant, Jupiter Trine Neptune, Jupiter Opposition Pluto, Jupiter Square Midheaven, Saturn Square Neptune, Saturn Quincunx Pluto, Saturn Sextile Midheaven, Neptune Sextile Pluto, Neptune Semi Sextile Midheaven, Pluto Square Midheaven
Categories related to Manuel Valls: Living people, Deputies of the 12th National Assembly of the French Fifth Republic, Deputies of the 13th National Assembly of the French Fifth Republic, August 13 births, Deputies of the 15th National Assembly of the French Fifth Republic, Socialist Party (France) politicians, Politicians from Barcelona, People from Barcelona, Grand Cross of the National Order of Merit (France), Knights Grand Cross of the Order of Isabella the Catholic, Grand Officiers of the Légion dhonneur, 1962 births, Mayors of places in Île-de-France, Honorary Knights Grand Cross of the Order of St Michael and St George, Spanish emigrants to France, Naturalized citizens of France, French people of Catalan descent, French interior ministers, Prime Ministers of France, French people of Swiss-Italian descent, Barcelona municipal councillors (2019–2023)
Photo attribution: Pablo Tupin-Noriega, Own work