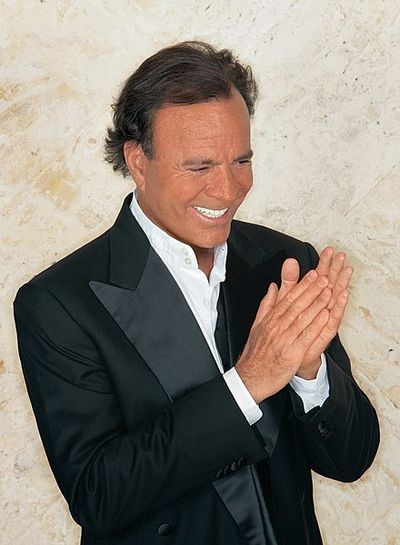 Julio José Iglesias de la Cueva
---
About Julio Iglesias
---
Julio José Iglesias de la Cueva (Spanish: [ˈxuljo iˈɣlesjas]; born 23 September 1943) is a Spanish singer, songwriter and former professional footballer. Iglesias is recognized as the most commercially successful continental European singer in the world and one of the top record sellers in music history, having sold more than 100 million records worldwide in 14 languages. It is estimated that during his career he has performed in more than 5000 concerts, for over 60 million people in five continents. In April 2013, Iglesias was inducted into the Hall of Fame of Latin Composers.[citation needed]
Birth Chart and Planetary Positions of Julio Iglesias
---
Astrological portrait of Julio Iglesias
---
Here you will read about qualities of Julio Iglesias that may be familiar to you as well as a few that might seem new. Together the various features listed below, comprise an astrological portrait of Julio Iglesias as a unique person
For a more detailed analysis, check out Astro Reports.
How Julio Iglesias Appears to Others:
The Essence of Who Julio Iglesias Is:
Julio Iglesias's Emotions and Feelings:
How does Julio Iglesias Think and Communicate:
Julio Iglesias's Love and Romance:
Julio Iglesias's Drive and Ambition:
Current important phases/events in Julio Iglesias's life
---
Julio Iglesias's relationships
---
Astrological aspects and planetary data / tags for Julio Iglesias: Sun 29 Virgo, Moon 22 Cancer, Mercury 2 Libra, Venus 4 Virgo, Mars 14 Gemini, Jupiter 18 Leo, Saturn 26 Gemini, Uranus 8 Gemini, Neptune 1 Libra, Pluto 8 Leo, Asc 9 Scorpio, Mc 17 Leo, Sun Conjunct Mercury, Mercury Conjunct Neptune, Sun Square Saturn, Sun Conjunct Neptune, Moon Semi Square Venus, Moon Semi Square Uranus, Mercury Semi Square Jupiter, Mercury Semi Square Midheaven, Venus Square Uranus, Mars Sextile Jupiter, Mars Conjunct Uranus, Mars Sextile Midheaven, Jupiter Semi Square Neptune, Jupiter Conjunct Midheaven, Saturn Sesquiquadrate Ascendant, Uranus Sextile Pluto, Uranus Quincunx Ascendant, Neptune Semi Square Midheaven, Pluto Square Ascendant
Categories related to Julio Iglesias: Living people, 20th-century male singers, Spanish footballers, Association football goalkeepers, Real Madrid Castilla footballers, 21st-century male singers, September 23 births, Country musicians from Florida, Spanish male singers, 20th-century Spanish singers, American country singer-songwriters, Latin music songwriters, 21st-century Spanish singers, Columbia Records artists, Latin pop singers, Latin Recording Academy Person of the Year honorees, French-language singers, German-language singers, Eurovision Song Contest entrants of 1970, Italian-language singers, Songwriters from Florida, Singers from Madrid, Eurovision Song Contest entrants for Spain, People from Madrid, Spanish people of Galician descent, Singers from Florida, Musicians from Miami, 1943 births, Galician people (Spain), Spanish emigrants to the United States, Portuguese-language singers, Spanish expatriates in the United States, Grammy Lifetime Achievement Award winners, Sony Music Spain artists, Spanish pop singers, English-language singers from Spain, Russian-language singers, Musicians from Madrid, Spanish people of Puerto Rican descent, Spanish people of Jewish descent, Iglesias family, Naturalized citizens of the Dominican Republic, Julio Iglesias
Photo attribution: Alejandro Vilar, Julio Iglesia's office