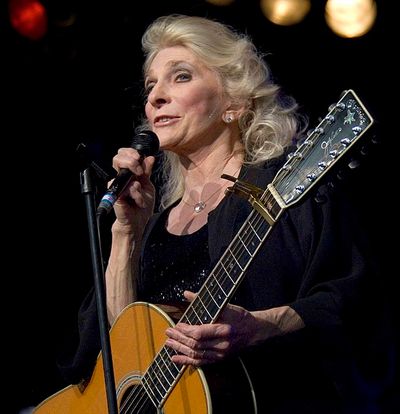 Seattle, Washington, United States
---
About Judy Collins
---
Judith Marjorie Collins (born May 1, 1939) is a Grammy Award winning American singer and songwriter with a career spanning over 60 years. She is known for her eclectic tastes in the material she records (which has included folk music, show tunes, pop music, rock and roll and standards) and for her social activism. Collins has released 28 studio albums, 4 live albums, numerous compilation albums and 4 holiday albums.
External Links:
Birth Chart and Planetary Positions of Judy Collins
---
Astrological portrait of Judy Collins
---
Here you will read about qualities of Judy Collins that may be familiar to you as well as a few that might seem new. Together the various features listed below, comprise an astrological portrait of Judy Collins as a unique person
For a more detailed analysis, check out Astro Reports.
How Judy Collins Appears to Others:
The Essence of Who Judy Collins Is:
Judy Collins's Emotions and Feelings:
How does Judy Collins Think and Communicate:
Judy Collins's Love and Romance:
Judy Collins's Drive and Ambition:
Current important phases/events in Judy Collins's life
---
Judy Collins's relationships
---
Astrological aspects and planetary data / tags for Judy Collins: Sun 10 Taurus, Moon 17 Libra, Mercury 13 Aries, Venus 7 Aries, Mars 21 Capricorn, Jupiter 28 Pisces, Saturn 23 Aries, Uranus 17 Taurus, Neptune 20 Virgo, Pluto 29 Cancer, Asc 19 Leo, Mc 7 Taurus, Moon Opposition Mercury, Moon Square Mars, Mercury Conjunct Venus, Moon Sextile Ascendant, Sun Semi Square Jupiter, Sun Conjunct Uranus, Sun Conjunct Midheaven, Moon Quincunx Uranus, Venus Sesquiquadrate Ascendant, Venus Semi Sextile Midheaven, Mars Square Saturn, Mars Trine Uranus, Mars Trine Neptune, Mars Quincunx Ascendant, Jupiter Trine Pluto, Saturn Quincunx Neptune, Saturn Trine Ascendant, Uranus Trine Neptune, Uranus Square Ascendant, Neptune Semi Sextile Ascendant, Neptune Sesquiquadrate Midheaven
Categories related to Judy Collins: Living people, 20th-century American composers, 20th-century American pianists, 21st-century American pianists, May 1 births, 20th-century American guitarists, Grammy Award winners, 20th-century American women singers, 21st-century American women singers, American people of Irish descent, American singer-songwriters, MCA Records artists, American sopranos, 21st-century American composers, American folk singers, People with polio, 20th-century American women guitarists, 21st-century American women guitarists, 21st-century American guitarists, Atlantic Records artists, American women pianists, American anti–Vietnam War activists, American female singer-songwriters, Musicians from Seattle, American folk guitarists, Yippies, Singers from Denver, Elektra Records artists, Guitarists from Colorado, Nautilus Book Award winners, American acoustic guitarists, 1939 births, Geffen Records artists, Singers from Washington (state), Guitarists from Washington (state), Songwriters from Washington (state), Singers from Colorado, Cleopatra Records artists, Judy Collins songs
Photo attribution: Bryan Ledgard from Yorkshire, UK, judy collins