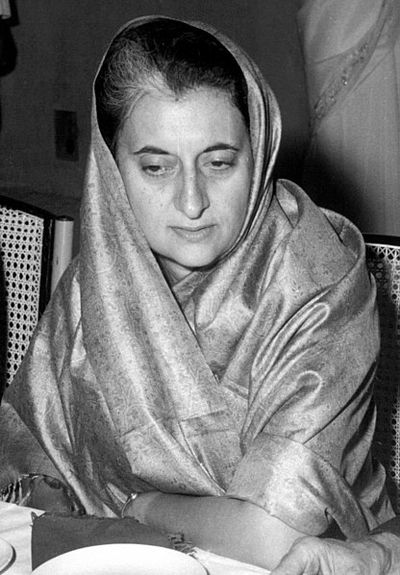 Prayagraj, Uttar Pradesh, India
---
About Indira Gandhi
---
Indira Priyadarshini Gandhi (Hindi: [ˈɪndɪɾa ˈɡaːndʱi] (listen); née Nehru; 19 November 1917 – 31 October 1984) was an Indian politician and a central figure of the Indian National Congress. She was the first and, to date, only female Prime Minister of India. Indira Gandhi was the daughter of Jawaharlal Nehru, the first prime minister of India. She served as prime minister from January 1966 to March 1977 and again from January 1980 until her assassination in October 1984, making her the second longest-serving Indian prime minister after her father.
External Links:
Birth Chart and Planetary Positions of Indira Gandhi
---
Astrological portrait of Indira Gandhi
---
Here you will read about qualities of Indira Gandhi that may be familiar to you as well as a few that might seem new. Together the various features listed below, comprise an astrological portrait of Indira Gandhi as a unique person
For a more detailed analysis, check out Astro Reports.
How Indira Gandhi Appears to Others:
The Essence of Who Indira Gandhi Is:
Indira Gandhi's Emotions and Feelings:
How does Indira Gandhi Think and Communicate:
Indira Gandhi's Love and Romance:
Indira Gandhi's Drive and Ambition:
Current important phases/events in Indira Gandhi's life
---
Indira Gandhi's relationships
---
Astrological aspects and planetary data / tags for Indira Gandhi: Sun 26 Scorpio, Moon 28 Capricorn, Mercury 5 Sagittarius, Venus 13 Capricorn, Mars 9 Virgo, Jupiter 7 Gemini, Saturn 14 Leo, Uranus 19 Aquarius, Neptune 7 Leo, Pluto 5 Cancer, Asc 20 Leo, Mc 17 Taurus, Mercury Opposition Jupiter, Sun Sextile Moon, Mercury Quincunx Pluto, Sun Semi Square Venus, Mercury Square Mars, Mercury Trine Neptune, Venus Trine Mars, Venus Quincunx Saturn, Venus Trine Midheaven, Mars Square Jupiter, Mars Sextile Pluto, Jupiter Sextile Neptune, Saturn Conjunct Ascendant, Saturn Square Midheaven, Uranus Sesquiquadrate Pluto, Uranus Opposition Ascendant, Uranus Square Midheaven, Neptune Semi Sextile Pluto, Pluto Semi Square Ascendant, Pluto Semi Square Midheaven, Ascendant Square Midheaven
Categories related to Indira Gandhi: November 19 births, Female foreign ministers, 20th-century Indian women, Lok Sabha members from Karnataka, Heads of government who were later imprisoned, Indian Hindus, 6th Lok Sabha members, Women prime ministers, Rajya Sabha members from Uttar Pradesh, Lok Sabha members from Uttar Pradesh, 7th Lok Sabha members, 1984 deaths, People who died in office, Female defence ministers, Lok Sabha members from Andhra Pradesh, Kashmiri people, 20th-century women rulers, Women members of the Lok Sabha, People from Raebareli, Ministers for Information and Broadcasting of India, Women members of the Cabinet of India, 1917 births, Nehru–Gandhi family, State funerals in India, Deaths by firearm in India, 4th Lok Sabha members, 5th Lok Sabha members, People murdered in Delhi, Lenin Peace Prize recipients, Indian socialists, Prime Ministers of India, Defence Ministers of India, Finance Ministers of India, Ministers for Corporate Affairs, Ministers for External Affairs of India, People educated at Badminton School, Assassination of Indira Gandhi, Assassinated heads of government, People associated with Santiniketan, Recipients of the Bharat Ratna, Children of Prime Ministers of India, Presidents of the Indian National Congress, Assassinated Indian politicians, Bandung Conference attendees, Victims of Sikh terrorism, People of the Emergency (India), Indira Gandhi, Women leaders of India, Ministers of Internal Affairs of India
Photo attribution: Defense Department, US government, http://photos.lbl.gov/bp/#/search/4603730