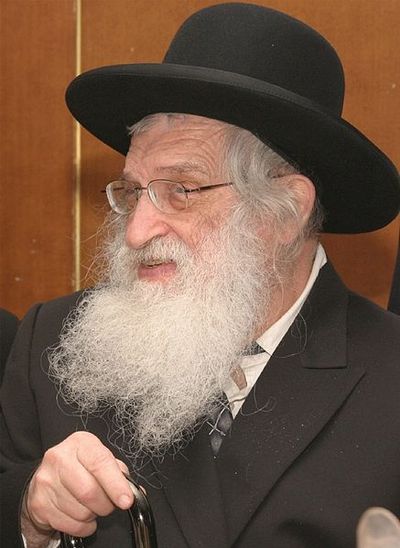 Nevel, Pskov Oblast, Russia
---
About Dov Schwartzman
---
Dov Schwartzman (1921 – 7 November 2011), also called Berel Schwartzman, was a Haredi Jewish rabbi and rosh yeshiva (dean) of Bais Hatalmud (Jerusalem), which he founded in the Sanhedria Murhevet neighborhood of Jerusalem and led for over 40 years. He also founded and led the Talmudical Yeshiva of Philadelphia together with Rabbi Shmuel Kamenetzky, and co-founded the first yeshiva in Israel for baalei teshuva (returnees to the faith). He taught and influenced tens of thousands of students, many of whom received semicha (rabbinic ordination) from him and went on to lead their own communities. He was renowned as a Talmudic genius and was conversant in all areas of Torah and Kabbalah.
External Links:
Birth Chart and Planetary Positions of Dov Schwartzman
---
Astrological portrait of Dov Schwartzman
---
Here you will read about qualities of Dov Schwartzman that may be familiar to you as well as a few that might seem new. Together the various features listed below, comprise an astrological portrait of Dov Schwartzman as a unique person
For a more detailed analysis, check out Astro Reports.
How Dov Schwartzman Appears to Others:
The Essence of Who Dov Schwartzman Is:
Dov Schwartzman's Emotions and Feelings:
How does Dov Schwartzman Think and Communicate:
Dov Schwartzman's Love and Romance:
Dov Schwartzman's Drive and Ambition:
Current important phases/events in Dov Schwartzman's life
---
Dov Schwartzman's relationships
---
Astrological aspects and planetary data / tags for Dov Schwartzman: Sun 1 Libra, Moon 7 Cancer, Mercury 24 Libra, Venus 28 Leo, Mars 3 Virgo, Jupiter 29 Virgo, Saturn 28 Virgo, Uranus 6 Pisces, Neptune 15 Leo, Pluto 10 Cancer, Sun Conjunct Jupiter, Venus Conjunct Mars, Sun Semi Sextile Mars, Sun Conjunct Saturn, Sun Semi Square Neptune, Mercury Sesquiquadrate Uranus, Venus Semi Sextile Jupiter, Venus Semi Sextile Saturn, Mars Opposition Uranus, Jupiter Conjunct Saturn, Jupiter Semi Square Neptune, Saturn Semi Square Neptune, Uranus Trine Pluto
Categories related to Dov Schwartzman: 2011 deaths, September 25 births, 20th-century rabbis, 21st-century rabbis, Israeli Rosh yeshivas, Haredi rabbis in Israel, 1921 births, American Haredi rabbis, Burials at the Jewish cemetery on the Mount of Olives, Rabbis in Jerusalem
Photo attribution: Michael Kühntopf, http://www.jewiki.net/index.php?title=Datei:Schwartzman.jpg