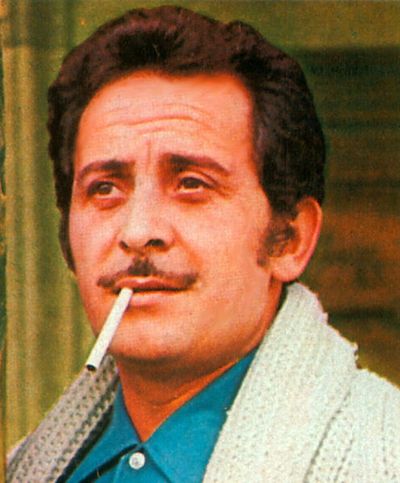 Polignano a Mare, Apulia, Italy
---
About Domenico Modugno
---
Domenico Modugno (Italian pronunciation: [doˈmeːniko moˈduɲɲo]; 9 January 1928 – 6 August 1994) was an Italian singer, songwriter, actor, guitarist, and later in life, a member of the Italian Parliament. He is known for his 1958 international hit song "Nel blu dipinto di blu", for which he received Grammy Awards for Record and Song of the Year. He is considered the first Italian cantautore.
External Links:
Birth Chart and Planetary Positions of Domenico Modugno
---
Astrological portrait of Domenico Modugno
---
Here you will read about qualities of Domenico Modugno that may be familiar to you as well as a few that might seem new. Together the various features listed below, comprise an astrological portrait of Domenico Modugno as a unique person
For a more detailed analysis, check out Astro Reports.
How Domenico Modugno Appears to Others:
The Essence of Who Domenico Modugno Is:
Domenico Modugno's Emotions and Feelings:
How does Domenico Modugno Think and Communicate:
Domenico Modugno's Love and Romance:
Domenico Modugno's Drive and Ambition:
Current important phases/events in Domenico Modugno's life
---
Domenico Modugno's relationships
---
Astrological aspects and planetary data / tags for Domenico Modugno: Sun 18 Capricorn, Moon 17 Leo, Mercury 18 Capricorn, Venus 6 Sagittarius, Mars 23 Sagittarius, Jupiter 27 Pisces, Saturn 14 Sagittarius, Uranus 29 Pisces, Neptune 28 Leo, Pluto 16 Cancer, Asc 27 Gemini, Mc 3 Pisces, Sun Quincunx Moon, Sun Opposition Pluto, Mercury Opposition Pluto, Sun Conjunct Mercury, Moon Trine Saturn, Moon Quincunx Mercury, Sun Semi Square Midheaven, Moon Sesquiquadrate Uranus, Moon Semi Sextile Pluto, Mercury Semi Square Midheaven, Venus Square Midheaven, Mars Square Jupiter, Mars Opposition Ascendant, Jupiter Conjunct Uranus, Jupiter Quincunx Neptune, Jupiter Square Ascendant, Saturn Quincunx Pluto, Uranus Quincunx Neptune, Uranus Square Ascendant, Neptune Semi Square Pluto, Neptune Sextile Ascendant, Neptune Opposition Midheaven, Pluto Sesquiquadrate Midheaven
Categories related to Domenico Modugno: 20th-century male singers, January 9 births, Grammy Award winners, RCA Victor artists, 1994 deaths, People from the Province of Bari, 20th-century Italian singers, Italian pop singers, Italian singer-songwriters, Italian-language singers, Centro Sperimentale di Cinematografia alumni, Italian male singers, Stroke survivors, Deputies of Legislature X of Italy, Decca Records artists, Senators of Legislature X of Italy, 1928 births, Federation of the Greens politicians, Burials at the Cimitero Flaminio, Eurovision Song Contest entrants for Italy, Sanremo Music Festival winners, Jubilee Records artists, Eurovision Song Contest entrants of 1958, Eurovision Song Contest entrants of 1966, Radical Party (Italy) politicians, Politicians of Apulia, Italian human rights activists, Eurovision Song Contest entrants of 1959
Photo attribution: Unknown author, Partitissima RAI tv, promotional photo