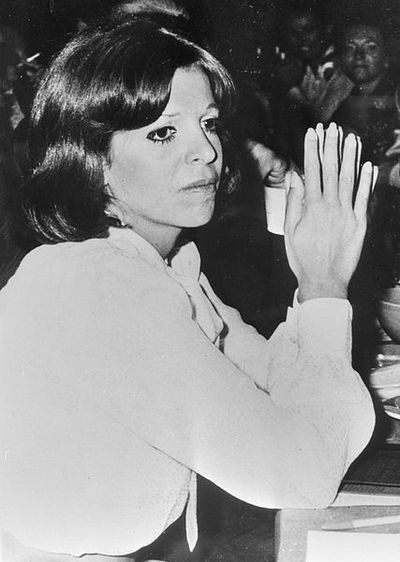 New York, New York, United States
---
About Christina Onassis
---
Christina Onassis (Greek: Χριστίνα Ωνάση; 11 December 1950 – 19 November 1988) was an American-born Greek businesswoman, socialite, and heiress to the Onassis fortune. She was the only daughter of Aristotle Onassis and Tina Onassis Niarchos.
External Links:
Birth Chart and Planetary Positions of Christina Onassis
---
Astrological portrait of Christina Onassis
---
Here you will read about qualities of Christina Onassis that may be familiar to you as well as a few that might seem new. Together the various features listed below, comprise an astrological portrait of Christina Onassis as a unique person
For a more detailed analysis, check out Astro Reports.
How Christina Onassis Appears to Others:
The Essence of Who Christina Onassis Is:
Christina Onassis's Emotions and Feelings:
How does Christina Onassis Think and Communicate:
Christina Onassis's Love and Romance:
Christina Onassis's Drive and Ambition:
Current important phases/events in Christina Onassis's life
---
Christina Onassis's relationships
---
Astrological aspects and planetary data / tags for Christina Onassis: Sun 19 Sagittarius, Moon 23 Capricorn, Mercury 9 Capricorn, Venus 26 Sagittarius, Mars 27 Capricorn, Jupiter 1 Pisces, Saturn 1 Libra, Uranus 8 Cancer, Neptune 19 Libra, Pluto 19 Leo, Asc 25 Taurus, Mc 3 Aquarius, Moon Trine Ascendant, Sun Sextile Neptune, Sun Conjunct Venus, Sun Trine Pluto, Moon Conjunct Mars, Mercury Opposition Uranus, Moon Square Neptune, Sun Semi Square Midheaven, Mercury Sesquiquadrate Ascendant, Venus Semi Sextile Mars, Venus Quincunx Ascendant, Mars Trine Saturn, Mars Trine Ascendant, Mars Conjunct Midheaven, Jupiter Quincunx Saturn, Jupiter Sesquiquadrate Neptune, Saturn Trine Midheaven, Uranus Semi Square Ascendant, Neptune Sextile Pluto
Categories related to Christina Onassis: 1950 births, 1988 deaths, 20th-century American businesspeople, December 11 births, London, 20th-century businesswomen, Businesspeople from New York City, Greek businesspeople in shipping, Argentine businesspeople, People who lost United States citizenship, Argentine people of Greek descent, People educated at Queens College, Onassis family, American emigrants to Argentina, People educated at Headington School, Livanos family, Burials in Skorpios, Greek socialites, Argentine women in business
Photo attribution: Unknown author, [1] Dutch National Archives, The Hague, Fotocollectie Algemeen Nederlands Persbureau (ANEFO), 1945-1989 bekijk toegang 2.24.01.04 Bestanddeelnummer 929-8485