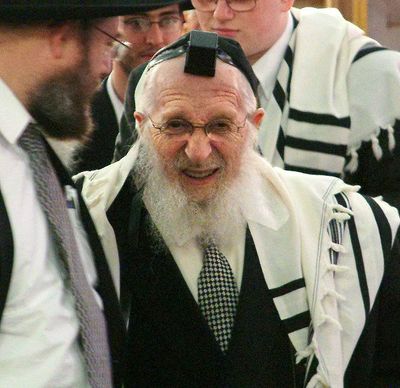 Ostrów Wielkopolski, Greater Poland, Poland
---
About Chaim Pinchas Scheinberg
---
Chaim Pinchas Scheinberg (Hebrew: חיים פנחס שיינברג; 1 October 1910 – 20 March 2012) was a Polish-born, American-raised, Israeli Haredi rabbi and rosh yeshiva who, from 1965, made his home in the Kiryat Mattersdorf neighborhood of Jerusalem. He was the rosh yeshiva of the Torah Ore yeshiva in Kiryat Mattersdorf and Yeshivas Derech Chaim in Brooklyn. He was a posek (decisor of Jewish law), Gadol HaDor, and one of the last living Torah scholars to have been educated in the yeshivas of prewar Europe. He was often consulted on a range of communal and personal halachic issues. He was one of the rabbinic leaders of Kiryat Mattersdorf, together with Rabbi Yisroel Gans and Rabbi Yitzchok Yechiel Ehrenfeld. He was also a member of the Moetzes Gedolei HaTorah of Israel.
External Links:
Birth Chart and Planetary Positions of Chaim Pinchas Scheinberg
---
Astrological portrait of Chaim Pinchas Scheinberg
---
Here you will read about qualities of Chaim Pinchas Scheinberg that may be familiar to you as well as a few that might seem new. Together the various features listed below, comprise an astrological portrait of Chaim Pinchas Scheinberg as a unique person
For a more detailed analysis, check out Astro Reports.
How Chaim Pinchas Scheinberg Appears to Others:
The Essence of Who Chaim Pinchas Scheinberg Is:
Chaim Pinchas Scheinberg's Emotions and Feelings:
How does Chaim Pinchas Scheinberg Think and Communicate:
Chaim Pinchas Scheinberg's Love and Romance:
Chaim Pinchas Scheinberg's Drive and Ambition:
Current important phases/events in Chaim Pinchas Scheinberg's life
---
Chaim Pinchas Scheinberg's relationships
---
Astrological aspects and planetary data / tags for Chaim Pinchas Scheinberg: Sun 7 Libra, Moon 15 Virgo, Mercury 27 Virgo, Venus 23 Virgo, Mars 6 Libra, Jupiter 21 Libra, Saturn 5 Taurus, Uranus 21 Capricorn, Neptune 21 Cancer, Pluto 27 Gemini, Sun Conjunct Mars, Mercury Square Pluto, Mercury Conjunct Venus, Sun Quincunx Saturn, Venus Trine Uranus, Venus Sextile Neptune, Venus Square Pluto, Mars Quincunx Saturn, Jupiter Square Uranus, Jupiter Square Neptune, Uranus Opposition Neptune
Categories related to Chaim Pinchas Scheinberg: October 1 births, 2012 deaths, Israeli people of Polish-Jewish descent, American emigrants to Israel, American people of Polish-Jewish descent, Israeli Rosh yeshivas, Rabbi Isaac Elchanan Theological Seminary semikhah recipients, Haredi rabbis in Israel, Moetzes Gedolei HaTorah, 1910 births, American Haredi rabbis, Israeli centenarians, Authors of books on Jewish law, Hebrew-language writers, Mir Yeshiva alumni, Rabbi Jacob Joseph School alumni, Men centenarians, Polish Haredi rabbis, Rabbis that emigrated to Israel
Photo attribution: Uploaded by User:Crzrussian (likely at File:Rabbi Scheinberg at a Bris Mila.jpg). Edited by Fir002, Own work