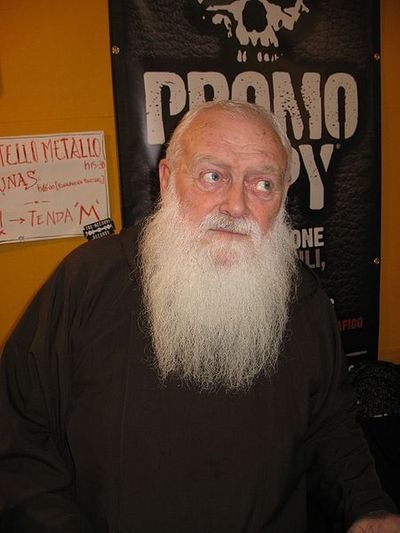 Offanengo, Lombardy, Italy
---
About Cesare Bonizzi
---
Father Cesare Bonizzi, O.F.M. Cap. (born 15 March 1946), also known as Frate Cesare and Fratello Metallo ("Brother Metal") – which was also the name of his band, is an Italian Capuchin friar, who was known as a heavy metal singer.
Birth Chart and Planetary Positions of Cesare Bonizzi
---
Astrological portrait of Cesare Bonizzi
---
Here you will read about qualities of Cesare Bonizzi that may be familiar to you as well as a few that might seem new. Together the various features listed below, comprise an astrological portrait of Cesare Bonizzi as a unique person
For a more detailed analysis, check out Astro Reports.
How Cesare Bonizzi Appears to Others:
The Essence of Who Cesare Bonizzi Is:
Cesare Bonizzi's Emotions and Feelings:
How does Cesare Bonizzi Think and Communicate:
Cesare Bonizzi's Love and Romance:
Cesare Bonizzi's Drive and Ambition:
Current important phases/events in Cesare Bonizzi's life
---
Cesare Bonizzi's relationships
---
Astrological aspects and planetary data / tags for Cesare Bonizzi: Sun 24 Pisces, Moon 26 Leo, Mercury 10 Aries, Venus 4 Aries, Mars 16 Cancer, Jupiter 25 Libra, Saturn 17 Cancer, Uranus 13 Gemini, Neptune 7 Libra, Pluto 9 Leo, Mercury Opposition Neptune, Sun Quincunx Jupiter, Mercury Conjunct Venus, Sun Sesquiquadrate Pluto, Mercury Sextile Uranus, Mercury Trine Pluto, Venus Opposition Neptune, Mars Conjunct Saturn, Jupiter Sesquiquadrate Uranus, Uranus Sextile Pluto, Neptune Sextile Pluto
Categories related to Cesare Bonizzi: Living people, March 15 births, 1946 births, 21st-century Roman Catholic priests, Franciscan missionaries, Italian musician stubs, 20th-century Italian Roman Catholic priests, Italian Roman Catholic missionaries, Christian metal musicians, Capuchins, Italian heavy metal singers, Italian Roman Catholic clergy stubs, Roman Catholic missionaries in Ivory Coast, Clergy from the Province of Cremona, Italian expatriates in Ivory Coast, Musicians from the Province of Cremona
Photo attribution: Dinwath, Original Work