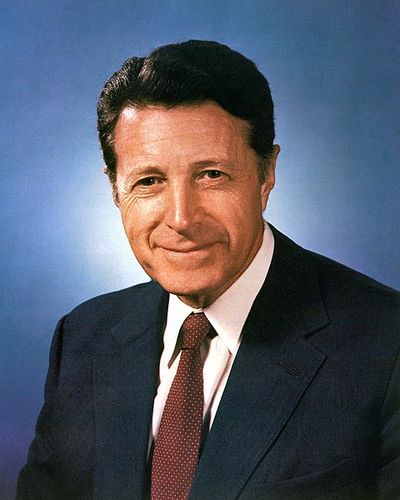 Caspar Willard Weinberger
San Francisco, California, United States
---
About Caspar Weinberger
---
Caspar Willard "Cap" Weinberger (August 18, 1917 – March 28, 2006) was an American politician and businessman. As a prominent Republican, he served in a variety of state and federal positions for three decades, including Chairman of the California Republican Party, 1962–68. Most notably he was Secretary of Defense under President Ronald Reagan from 1981 to 1987.
External Links:
Birth Chart and Planetary Positions of Caspar Weinberger
---
Astrological portrait of Caspar Weinberger
---
Here you will read about qualities of Caspar Weinberger that may be familiar to you as well as a few that might seem new. Together the various features listed below, comprise an astrological portrait of Caspar Weinberger as a unique person
For a more detailed analysis, check out Astro Reports.
How Caspar Weinberger Appears to Others:
The Essence of Who Caspar Weinberger Is:
Caspar Weinberger's Emotions and Feelings:
How does Caspar Weinberger Think and Communicate:
Caspar Weinberger's Love and Romance:
Caspar Weinberger's Drive and Ambition:
Current important phases/events in Caspar Weinberger's life
---
Caspar Weinberger's relationships
---
Astrological aspects and planetary data / tags for Caspar Weinberger: Sun 25 Leo, Moon 8 Virgo, Mercury 22 Virgo, Venus 25 Virgo, Mars 14 Cancer, Jupiter 8 Gemini, Saturn 7 Leo, Uranus 21 Aquarius, Neptune 5 Leo, Pluto 5 Cancer, Asc 22 Sagittarius, Mc 12 Libra, Moon Sextile Pluto, Sun Trine Ascendant, Sun Opposition Uranus, Mercury Quincunx Uranus, Mercury Conjunct Venus, Mercury Square Ascendant, Moon Square Jupiter, Sun Semi Sextile Venus, Sun Semi Square Midheaven, Moon Semi Sextile Saturn, Mercury Semi Square Saturn, Mercury Semi Square Neptune, Venus Square Ascendant, Mars Square Midheaven, Jupiter Sextile Saturn, Jupiter Sextile Neptune, Jupiter Trine Midheaven, Saturn Conjunct Neptune, Saturn Semi Sextile Pluto, Saturn Sesquiquadrate Ascendant, Uranus Sesquiquadrate Pluto, Uranus Sextile Ascendant, Neptune Semi Sextile Pluto, Neptune Sesquiquadrate Ascendant
Categories related to Caspar Weinberger: 20th-century American politicians, August 18 births, California Republicans, American people of English descent, California lawyers, United States Army officers, Harvard Law School alumni, American anti-communists, Members of the California State Assembly, 2006 deaths, Maine, American Episcopalians, Harvard College alumni, Deaths from pneumonia, United States Secretaries of Defense, Presidential Medal of Freedom recipients, Recipients of the Order of the Sword (United States), Politicians from Bangor, Military personnel from California, Burials at Arlington National Cemetery, American army personnel of World War II, Education, Federal Trade Commission personnel, Recipients of American presidential pardons, 1917 births, American people of Czech-Jewish descent, California Republican Party chairs, Nixon administration cabinet members, United States Secretaries of Health, and Welfare, Reagan administration cabinet members, Ford administration cabinet members, Bechtel, Directors of the Office of Management and Budget, Honorary Knights Grand Cross of the Order of the British Empire, Infectious disease deaths in Maine, Iran–Contra affair, People of the Falklands War, Reagan administration controversies, Harvard Crimson alumni
Photo attribution: Unknown author, http://www.dodmedia.osd.mil/Assets/1999/Army/HA-SC-99-00385.JPEG