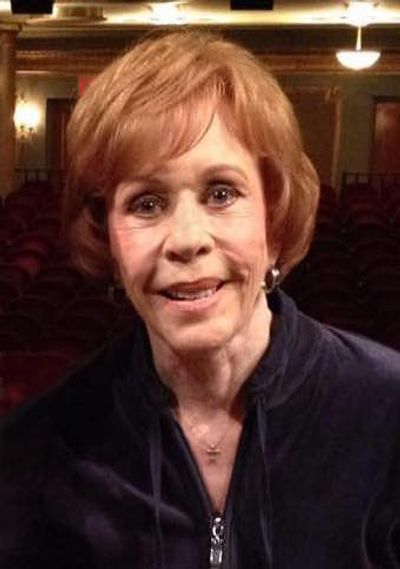 San Antonio, Texas, United States
---
About Carol Burnett
---
Carol Creighton Burnett (born April 26, 1933) is an American actress, comedian, singer, and writer, whose career spans seven decades of television. She is best known for her groundbreaking comedy variety show, The Carol Burnett Show, originally aired on CBS. It was one of the first of its kind to be hosted by a woman. She has achieved success on stage, television and film in varying genres including dramatic and comedic roles. She has also appeared on various talk shows and as a panelist on game shows.
External Links:
Birth Chart and Planetary Positions of Carol Burnett
---
Astrological portrait of Carol Burnett
---
Here you will read about qualities of Carol Burnett that may be familiar to you as well as a few that might seem new. Together the various features listed below, comprise an astrological portrait of Carol Burnett as a unique person
For a more detailed analysis, check out Astro Reports.
How Carol Burnett Appears to Others:
The Essence of Who Carol Burnett Is:
Carol Burnett's Emotions and Feelings:
How does Carol Burnett Think and Communicate:
Carol Burnett's Love and Romance:
Carol Burnett's Drive and Ambition:
Current important phases/events in Carol Burnett's life
---
Carol Burnett's relationships
---
Astrological aspects and planetary data / tags for Carol Burnett: Sun 5 Taurus, Moon 23 Taurus, Mercury 9 Aries, Venus 6 Taurus, Mars 2 Virgo, Jupiter 13 Virgo, Saturn 15 Aquarius, Uranus 24 Aries, Neptune 7 Virgo, Pluto 21 Cancer, Asc 23 Pisces, Mc 25 Sagittarius, Sun Trine Neptune, Moon Quincunx Midheaven, Moon Sextile Pluto, Mercury Quincunx Neptune, Sun Trine Mars, Sun Conjunct Venus, Moon Sextile Ascendant, Sun Semi Square Ascendant, Moon Semi Square Mercury, Moon Semi Sextile Uranus, Venus Trine Mars, Venus Trine Neptune, Venus Semi Square Ascendant, Mars Conjunct Neptune, Jupiter Quincunx Saturn, Jupiter Conjunct Neptune, Uranus Sesquiquadrate Neptune, Uranus Square Pluto, Uranus Semi Sextile Ascendant, Uranus Trine Midheaven, Neptune Semi Square Pluto, Pluto Trine Ascendant, Ascendant Square Midheaven
Categories related to Carol Burnett: Living people, American television actresses, 20th-century American actresses, American film actresses, 21st-century American actresses, American stage actresses, Grammy Award winners, April 26 births, American sketch comedians, American female singers, American memoirists, American voice actresses, Primetime Emmy Award winners, Back Stage West Garland Award recipients, UCLA Film School alumni, People from San Antonio, Presidential Medal of Freedom recipients, American women comedians, Hollywood High School alumni, Peabody Award winners, 1933 births, Best Musical or Comedy Actress Golden Globe (television) winners, Kennedy Center honorees, Mark Twain Prize recipients, Actresses from San Antonio, Carol Burnett Award Golden Globe winners, Carol Burnett
Photo attribution: Dennis115, On Stage of Love Letters