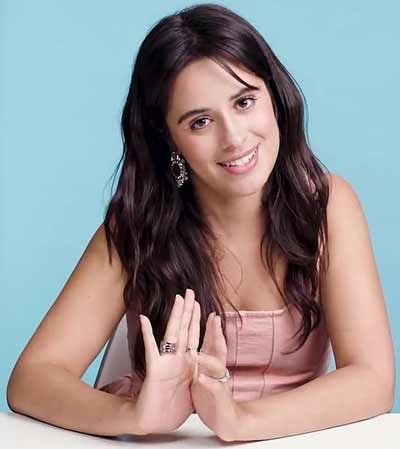 Karla Camila Cabello Estrabao
---
About Camila Cabello
---
Karla Camila Cabello Estrabao (/kəˈmiːlə kəˈbeɪoʊ/; Spanish: [kaˈmila kaˈβeʎo]; born March 3, 1997), known professionally as Camila Cabello, is a Cuban-American singer and songwriter. She rose to prominence as a member of the girl group Fifth Harmony, formed on The X Factor USA in 2012, signing a joint record deal with Syco Music and Epic Records. While in Fifth Harmony, Cabello began to establish herself as a solo artist with the release of the collaborations "I Know What You Did Last Summer" with Shawn Mendes, and "Bad Things" with Machine Gun Kelly, the latter reaching number four on the US Billboard Hot 100. After leaving the group in late 2016, Cabello released several other collaborations, including "Hey Ma" by Pitbull and J Balvin for The Fate of the Furious soundtrack, and her debut solo single "Crying in the Club".
External Links:
Birth Chart and Planetary Positions of Camila Cabello
---
Astrological portrait of Camila Cabello
---
Here you will read about qualities of Camila Cabello that may be familiar to you as well as a few that might seem new. Together the various features listed below, comprise an astrological portrait of Camila Cabello as a unique person
For a more detailed analysis, check out Astro Reports.
How Camila Cabello Appears to Others:
The Essence of Who Camila Cabello Is:
Camila Cabello's Emotions and Feelings:
How does Camila Cabello Think and Communicate:
Camila Cabello's Love and Romance:
Camila Cabello's Drive and Ambition:
Current important phases/events in Camila Cabello's life
---
Camila Cabello's relationships
---
Astrological aspects and planetary data / tags for Camila Cabello: Sun 13 Pisces, Moon 28 Sagittarius, Mercury 6 Pisces, Venus 5 Pisces, Mars 1 Libra, Jupiter 9 Aquarius, Saturn 6 Aries, Uranus 6 Aquarius, Neptune 29 Capricorn, Pluto 5 Sagittarius, Asc 10 Taurus, Mc 29 Capricorn, Sun Sextile Ascendant, Mercury Square Pluto, Moon Square Mars, Mercury Conjunct Venus, Sun Conjunct Mercury, Sun Semi Square Neptune, Sun Semi Square Midheaven, Moon Semi Sextile Neptune, Moon Sesquiquadrate Ascendant, Moon Semi Sextile Midheaven, Mercury Semi Sextile Saturn, Mercury Semi Sextile Uranus, Venus Semi Sextile Saturn, Venus Semi Sextile Uranus, Venus Square Pluto, Mars Trine Uranus, Mars Trine Neptune, Mars Sextile Pluto, Mars Trine Midheaven, Jupiter Sextile Saturn, Jupiter Conjunct Uranus, Jupiter Sextile Pluto, Jupiter Square Ascendant, Saturn Sextile Uranus, Saturn Trine Pluto, Uranus Sextile Pluto, Uranus Square Ascendant, Neptune Conjunct Midheaven
Categories related to Camila Cabello: Living people, Cuban emigrants to the United States, 21st-century American singers, 21st-century American women singers, People with acquired American citizenship, American songwriters, Spanish-language singers of the United States, March 3 births, American female pop singers, Latin Grammy Award winners, 1997 births, American people of Cuban descent, Musicians from Miami, American contemporary R&B singers, People from Havana, Hispanic and Latino American actresses, Hispanic and Latino American female singers, The X Factor (American TV series) contestants, Camila Cabello, Fifth Harmony members
Photo attribution: Vogue Taiwan, https://www.youtube.com/watch?v=fx2SqQmOQfE