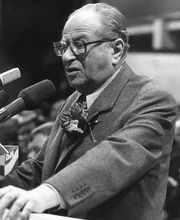 ---
About Bruno Kreisky
---
Bruno Kreisky (22 January 1911 – 29 July 1990) was an Austrian social democratic politician who served as Foreign Minister from 1959 to 1966 and as Chancellor from 1970 to 1983. Aged 72 at the end of his chancellorship, he was the oldest Chancellor after World War II. His 13-year tenure was the longest of any Chancellor in republican Austria.
External Links:
Birth Chart and Planetary Positions of Bruno Kreisky
---
Astrological portrait of Bruno Kreisky
---
Here you will read about qualities of Bruno Kreisky that may be familiar to you as well as a few that might seem new. Together the various features listed below, comprise an astrological portrait of Bruno Kreisky as a unique person
For a more detailed analysis, check out Astro Reports.
How Bruno Kreisky Appears to Others:
The Essence of Who Bruno Kreisky Is:
Bruno Kreisky's Emotions and Feelings:
How does Bruno Kreisky Think and Communicate:
Bruno Kreisky's Love and Romance:
Bruno Kreisky's Drive and Ambition:
Current important phases/events in Bruno Kreisky's life
---
Bruno Kreisky's relationships
---
Astrological aspects and planetary data / tags for Bruno Kreisky: Sun 1 Aquarius, Moon 4 Scorpio, Mercury 10 Capricorn, Venus 15 Aquarius, Mars 23 Sagittarius, Jupiter 12 Scorpio, Saturn 0 Taurus, Uranus 25 Capricorn, Neptune 19 Cancer, Pluto 26 Gemini, Asc 13 Cancer, Mc 16 Pisces, Mercury Opposition Ascendant, Moon Opposition Saturn, Sun Square Moon, Sun Square Saturn, Sun Conjunct Uranus, Sun Semi Square Midheaven, Mercury Sextile Jupiter, Venus Square Jupiter, Venus Quincunx Ascendant, Venus Semi Sextile Midheaven, Mars Opposition Pluto, Jupiter Sesquiquadrate Pluto, Jupiter Trine Ascendant, Jupiter Trine Midheaven, Saturn Square Uranus, Saturn Sextile Pluto, Saturn Semi Square Midheaven, Uranus Quincunx Pluto, Neptune Conjunct Ascendant, Neptune Trine Midheaven, Ascendant Trine Midheaven
Categories related to Bruno Kreisky: 1990 deaths, January 22 births, Presidents of the Organising Committees for the Olympic Games, University of Vienna alumni, Austrian Jews, Jewish agnostics, Grand Crosses 1st class of the Order of Merit of the Federal Republic of Germany, Austrian Ministers of Defence, Austrian diplomats, 1911 births, Austrian agnostics, Recipients of the Order of the White Lion, Burials at the Vienna Central Cemetery, Chancellors of Austria, 20th-century Chancellors of Austria, Foreign ministers of Austria, People from Margareten, People from Wieden, Austrian expatriates in Sweden, People convicted of treason against Austria, Jewish Austrian politicians, Jewish Prime Ministers, Austrian people of Czech-Jewish descent
Photo attribution: https://commons.wikimedia.org/wiki/File:Bruno_Kreisky_1983.jpg, https://commons.wikimedia.org/wiki/File:Bruno_Kreisky_1983.jpg