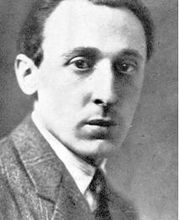 Klimontów, Świętokrzyskie, Poland
---
About Bruno Jasienski
---
Bruno Jasieński pronounced [ˈbrunɔ jaˈɕeɲskʲi], born Wiktor Bruno Zysman (17 July 1901 – 17 September 1938), was a Polish poet, novelist, playwright, Catastrophist, and leader of the Polish Futurist movement in the interwar period. Jasieński was also a communist activist in Poland, France and the Soviet Union, where he was executed during the Great Purge. He is acclaimed by members of the various modernist art groups as their patron. An annual literary festival Brunonalia is held in Klimontów, Poland, his birthplace, where one of the streets is also named after him.
External Links:
Birth Chart and Planetary Positions of Bruno Jasienski
---
Astrological portrait of Bruno Jasienski
---
Here you will read about qualities of Bruno Jasienski that may be familiar to you as well as a few that might seem new. Together the various features listed below, comprise an astrological portrait of Bruno Jasienski as a unique person
For a more detailed analysis, check out Astro Reports.
How Bruno Jasienski Appears to Others:
The Essence of Who Bruno Jasienski Is:
Bruno Jasienski's Emotions and Feelings:
How does Bruno Jasienski Think and Communicate:
Bruno Jasienski's Love and Romance:
Bruno Jasienski's Drive and Ambition:
Current important phases/events in Bruno Jasienski's life
---
Bruno Jasienski's relationships
---
Astrological aspects and planetary data / tags for Bruno Jasienski: Sun 24 Cancer, Moon 15 Leo, Mercury 17 Cancer, Venus 15 Leo, Mars 2 Libra, Jupiter 6 Capricorn, Saturn 12 Capricorn, Uranus 13 Sagittarius, Neptune 29 Gemini, Pluto 18 Gemini, Asc 19 Scorpio, Mc 7 Virgo, Moon Sextile Pluto, Moon Trine Uranus, Sun Trine Ascendant, Moon Conjunct Venus, Moon Quincunx Saturn, Sun Conjunct Mercury, Moon Square Ascendant, Mercury Trine Ascendant, Sun Semi Square Midheaven, Moon Semi Square Mars, Moon Semi Square Neptune, Mercury Semi Sextile Pluto, Venus Semi Square Mars, Venus Quincunx Saturn, Venus Trine Uranus, Venus Semi Square Neptune, Venus Sextile Pluto, Venus Square Ascendant, Mars Square Jupiter, Mars Square Neptune, Mars Semi Square Ascendant, Jupiter Conjunct Saturn, Jupiter Semi Square Ascendant, Jupiter Trine Midheaven, Saturn Semi Sextile Uranus, Saturn Trine Midheaven, Uranus Opposition Pluto, Pluto Quincunx Ascendant
Categories related to Bruno Jasienski: July 17 births, Polish male writers, Jewish socialists, Soviet Jews, 1901 births, Soviet male writers, Polish Jews, 20th-century Polish poets, Polish communists, Jews executed by the Soviet Union, Futurist writers, 1938 deaths, Polish emigrants to the Soviet Union, Great Purge victims from Poland, People from Sandomierz County, Polish deportees to Soviet Union, Executed people from Świętokrzyskie Voivodeship, Foreign Gulag detainees, Soviet people of Polish-Jewish descent, Executed writers, Soviet rehabilitations
Photo attribution: The original uploader was Vuvar1 at English Wikipedia., Transferred from en.wikipedia to Commons.