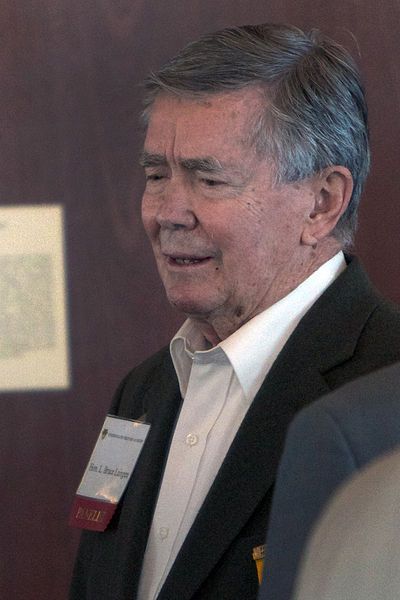 Butterfield, Minnesota, United States
---
About Bruce Laingen
---
Lowell Bruce Laingen (August 6, 1922 – July 15, 2019) was an American diplomat who served as the United States Ambassador to Malta from 1977 to 1979. Laingen is best known for having been the most senior American official held hostage during the Iran hostage crisis, while serving as the chargé d'affaires (head of diplomatic mission) at the U.S. Embassy in Tehran.
Birth Chart and Planetary Positions of Bruce Laingen
---
Astrological portrait of Bruce Laingen
---
Here you will read about qualities of Bruce Laingen that may be familiar to you as well as a few that might seem new. Together the various features listed below, comprise an astrological portrait of Bruce Laingen as a unique person
For a more detailed analysis, check out Astro Reports.
How Bruce Laingen Appears to Others:
The Essence of Who Bruce Laingen Is:
Bruce Laingen's Emotions and Feelings:
How does Bruce Laingen Think and Communicate:
Bruce Laingen's Love and Romance:
Bruce Laingen's Drive and Ambition:
Current important phases/events in Bruce Laingen's life
---
Bruce Laingen's relationships
---
Astrological aspects and planetary data / tags for Bruce Laingen: Sun 13 Leo, Moon 2 Aquarius, Mercury 12 Leo, Venus 25 Virgo, Mars 13 Sagittarius, Jupiter 14 Libra, Saturn 4 Libra, Uranus 12 Pisces, Neptune 15 Leo, Pluto 10 Cancer, Sun Quincunx Uranus, Sun Trine Mars, Mercury Quincunx Uranus, Sun Sextile Jupiter, Sun Conjunct Mercury, Mercury Conjunct Neptune, Sun Semi Square Venus, Sun Conjunct Neptune, Mercury Semi Square Venus, Mercury Trine Mars, Mercury Sextile Jupiter, Mars Sextile Jupiter, Mars Square Uranus, Mars Trine Neptune, Jupiter Quincunx Uranus, Jupiter Sextile Neptune, Jupiter Square Pluto, Uranus Quincunx Neptune, Uranus Trine Pluto
Categories related to Bruce Laingen: 2019 deaths, August 6 births, Minnesota, University of Minnesota alumni, National War College alumni, United States Navy officers, United States Foreign Service personnel, St. Olaf College alumni, Military personnel from Minnesota, American expatriates in Germany, American expatriates in Pakistan, American people taken hostage, 20th-century American diplomats, American expatriates in Iran, 1922 births, Iran hostage crisis, American expatriates in Afghanistan, United States Navy personnel of World War II, Ambassadors of the United States to Malta, People from Watonwan County
Photo attribution: English: Tommy Gilligan, This image was released by the United States Army with the ID 110121-A-4565G-028 (next).This tag does not indicate the copyright status of the attached work. A normal copyright tag is still required. See Commons:Licensing.