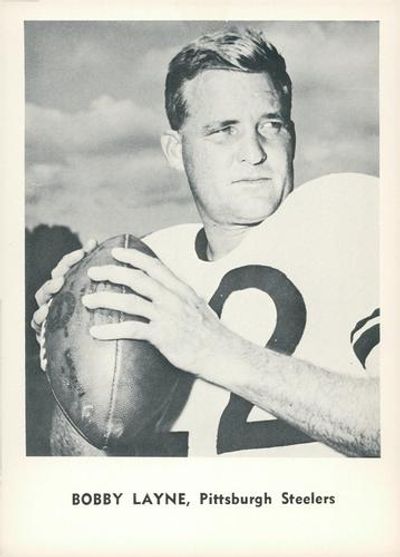 Santa Anna, Texas, United States
---
About Bobby Layne
---
Robert Lawrence Layne (December 19, 1926 – December 1, 1986) was an American football quarterback who played for 15 seasons in the National Football League. He played for the Chicago Bears in 1948, the New York Bulldogs in 1949, the Detroit Lions from 1950–1958, and the Pittsburgh Steelers from 1958–1962.
External Links:
Birth Chart and Planetary Positions of Bobby Layne
---
Astrological portrait of Bobby Layne
---
Here you will read about qualities of Bobby Layne that may be familiar to you as well as a few that might seem new. Together the various features listed below, comprise an astrological portrait of Bobby Layne as a unique person
For a more detailed analysis, check out Astro Reports.
How Bobby Layne Appears to Others:
The Essence of Who Bobby Layne Is:
Bobby Layne's Emotions and Feelings:
How does Bobby Layne Think and Communicate:
Bobby Layne's Love and Romance:
Bobby Layne's Drive and Ambition:
Current important phases/events in Bobby Layne's life
---
Bobby Layne's relationships
---
Astrological aspects and planetary data / tags for Bobby Layne: Sun 26 Sagittarius, Moon 1 Cancer, Mercury 6 Sagittarius, Venus 3 Capricorn, Mars 5 Taurus, Jupiter 23 Aquarius, Saturn 1 Sagittarius, Uranus 25 Pisces, Neptune 26 Leo, Pluto 15 Cancer, Asc 22 Capricorn, Mc 10 Scorpio, Sun Trine Neptune, Moon Opposition Venus, Sun Opposition Moon, Sun Conjunct Venus, Moon Quincunx Saturn, Sun Square Uranus, Mercury Conjunct Saturn, Sun Sextile Jupiter, Sun Semi Square Midheaven, Moon Sextile Mars, Mercury Quincunx Mars, Mercury Semi Square Ascendant, Venus Trine Mars, Venus Semi Sextile Saturn, Jupiter Semi Sextile Uranus, Jupiter Opposition Neptune, Jupiter Semi Sextile Ascendant, Saturn Sesquiquadrate Pluto, Uranus Quincunx Neptune, Uranus Sextile Ascendant, Uranus Sesquiquadrate Midheaven, Pluto Trine Midheaven
Categories related to Bobby Layne: Texas, December 19 births, All-American college football players, College Football Hall of Fame inductees, Baseball players from Texas, Pittsburgh Steelers players, Texas Longhorns football players, Chicago Bears players, American football quarterbacks, Texas Longhorns baseball players, Players of American football from Texas, Detroit Lions players, 1986 deaths, Pro Football Hall of Fame inductees, Pittsburgh Steelers coaches, 1926 births, Western Conference Pro Bowl players, Eastern Conference Pro Bowl players, Dallas Cowboys scouts, People from Santa Anna, American football-related curses, New York Bulldogs players
Photo attribution: Jay Publishing, https://www.tradingcarddb.com/ViewSet.cfm/sid/106011/1961-Jay-Publishing-Pittsburgh-Steelers