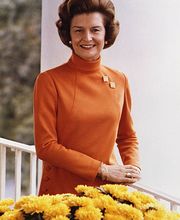 Chicago, Illinois, United States
---
About Betty Ford
---
Elizabeth Anne Ford (née Bloomer; formerly Warren; April 8, 1918 – July 8, 2011) was the First Lady of the United States from 1974 to 1977, as the wife of President Gerald Ford. As First Lady, she was active in social policy and set a precedent as a politically active presidential spouse. Ford also served as the Second Lady of the United States from 1973 to 1974.
External Links:
Birth Chart and Planetary Positions of Betty Ford
---
Astrological portrait of Betty Ford
---
Here you will read about qualities of Betty Ford that may be familiar to you as well as a few that might seem new. Together the various features listed below, comprise an astrological portrait of Betty Ford as a unique person
For a more detailed analysis, check out Astro Reports.
How Betty Ford Appears to Others:
The Essence of Who Betty Ford Is:
Betty Ford's Emotions and Feelings:
How does Betty Ford Think and Communicate:
Betty Ford's Love and Romance:
Betty Ford's Drive and Ambition:
Current important phases/events in Betty Ford's life
---
Betty Ford's relationships
---
Astrological aspects and planetary data / tags for Betty Ford: Sun 18 Aries, Moon 15 Pisces, Mercury 7 Taurus, Venus 2 Pisces, Mars 15 Virgo, Jupiter 9 Gemini, Saturn 7 Leo, Uranus 26 Aquarius, Neptune 4 Leo, Pluto 3 Cancer, Asc 6 Virgo, Mc 1 Gemini, Sun Quincunx Mars, Mercury Square Saturn, Mercury Square Neptune, Moon Opposition Mars, Mercury Trine Ascendant, Sun Semi Square Venus, Sun Semi Square Midheaven, Mercury Semi Sextile Jupiter, Mercury Sextile Pluto, Venus Conjunct Uranus, Venus Quincunx Neptune, Venus Trine Pluto, Venus Opposition Ascendant, Venus Square Midheaven, Jupiter Sextile Saturn, Jupiter Square Ascendant, Saturn Conjunct Neptune, Saturn Semi Sextile Ascendant, Neptune Semi Sextile Pluto, Neptune Sextile Midheaven, Pluto Sextile Ascendant, Pluto Semi Sextile Midheaven, Ascendant Square Midheaven
Categories related to Betty Ford: Activists from New York (state), California, 2011 deaths, California Republicans, April 8 births, American female dancers, 20th-century American women writers, 21st-century American women writers, Michigan, Michigan Republicans, Writers from Chicago, American feminist writers, Writers from California, People from Rancho Mirage, Activists from California, 21st-century American non-fiction writers, American women non-fiction writers, Manhattan, 20th-century American non-fiction writers, Breast cancer survivors, American memoirists, American women memoirists, American women activists, Congressional Gold Medal recipients, People from Chelsea, American womens rights activists, Writers from Michigan, Presidential Medal of Freedom recipients, Writers from Virginia, Modern dancers, American substance abuse counselors, 20th-century American Episcopalians, 21st-century American Episcopalians, Dancers from Illinois, American abortion-rights activists, People from Grand Rapids, 1918 births, Gerald Ford family, Dancers from California, Female models from Illinois, Second Ladies of the United States, First Ladies of the United States, Burials in Michigan, Founders of charities, Martha Graham
Photo attribution: David Hume Kennerly, This image is available from the United States Library of Congress's Prints and Photographs division under the digital ID cph.3g02019.This tag does not indicate the copyright status of the attached work. A normal copyright tag is still required. See Commons:Licensing for more information.