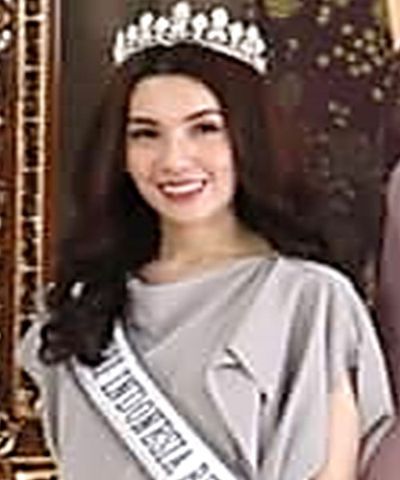 Jakarta, Jakarta, Indonesia
---
About Belinda Pritasari
---
Belinda Pritasari Basaruddin Jacobsen is an Indonesian-German actress, TV presenter, model and beauty pageant titleholder who was crowned Miss Earth Indonesia 2015 and Indonesia's representative at Miss Earth 2015 pageant in Vienna, Austria.
Birth Chart and Planetary Positions of Belinda Pritasari
---
Astrological portrait of Belinda Pritasari
---
Here you will read about qualities of Belinda Pritasari that may be familiar to you as well as a few that might seem new. Together the various features listed below, comprise an astrological portrait of Belinda Pritasari as a unique person
For a more detailed analysis, check out Astro Reports.
How Belinda Pritasari Appears to Others:
The Essence of Who Belinda Pritasari Is:
Belinda Pritasari's Emotions and Feelings:
How does Belinda Pritasari Think and Communicate:
Belinda Pritasari's Love and Romance:
Belinda Pritasari's Drive and Ambition:
Current important phases/events in Belinda Pritasari's life
---
Belinda Pritasari's relationships
---
Astrological aspects and planetary data / tags for Belinda Pritasari: Sun 13 Leo, Moon 29 Cancer, Mercury 5 Leo, Venus 28 Virgo, Mars 22 Gemini, Jupiter 6 Scorpio, Saturn 10 Pisces, Uranus 23 Capricorn, Neptune 21 Capricorn, Pluto 25 Scorpio, Sun Quincunx Saturn, Sun Semi Square Venus, Mercury Semi Square Mars, Mercury Square Jupiter, Venus Trine Uranus, Venus Sextile Pluto, Mars Sesquiquadrate Jupiter, Mars Quincunx Uranus, Mars Quincunx Neptune, Mars Quincunx Pluto, Jupiter Trine Saturn, Saturn Semi Square Uranus, Uranus Conjunct Neptune, Uranus Sextile Pluto, Neptune Sextile Pluto
Categories related to Belinda Pritasari: Living people, August 6 births, People from Jakarta, 1994 births, Indonesian beauty pageant winners, Miss Earth 2015 contestants
Photo attribution: Governor of Bengkulu Province (Indonesian: Pemerintah Provinsi Bengkulu) Published by Kominfo News Bengkulu (KOMINFO (Kementerian Komunikasi dan Informatika) or Ministry of Communication and Information Technology (Indonesia)), Di Ajang Pemilihan Puteri Indonesia 2020, Gubernur Rohidin Titip Nama Baik Bumi Rafflesia pada Perwakilan Bengkulu precisely on this image, cropped and brightened