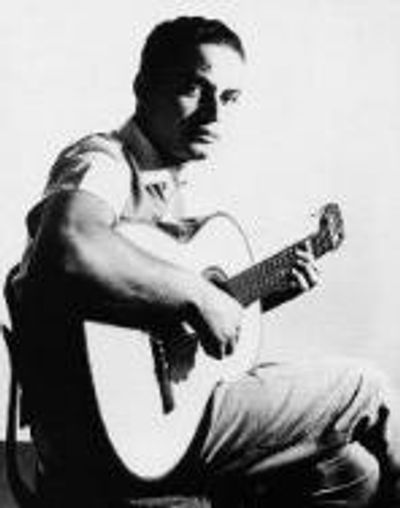 Varre-Sai, Rio de Janeiro, Brazil
---
About Baden Powell (guitarist)
---
Baden Powell de Aquino (Brazilian Portuguese: [ˈbadẽ ˈpaw]; 6 August 1937 – 26 September 2000), known professionally as Baden Powell, was a Brazilian guitarist. He combined classical techniques with popular harmony and swing. He performed in many styles, including bossa nova, samba, Brazilian jazz, Latin jazz and MPB. He performed on stage during most of his lifetime. Powell composed many pieces for guitar, such as "Abração em Madrid", "Braziliense", "Canto de Ossanha", "Casa Velha", "Consolação", "Horizon", "Imagem", "Lotus", "Samba", "Samba Triste", "Simplesmente", "Tristeza e Solidão", and "Samba da Benção". He released Os Afro-sambas, a watershed album in MPB, with Vinicius de Moraes in 1966.
External Links:
Birth Chart and Planetary Positions of Baden Powell (guitarist)
---
Astrological portrait of Baden Powell (guitarist)
---
Here you will read about qualities of Baden Powell (guitarist) that may be familiar to you as well as a few that might seem new. Together the various features listed below, comprise an astrological portrait of Baden Powell (guitarist) as a unique person
For a more detailed analysis, check out Astro Reports.
How Baden Powell (guitarist) Appears to Others:
The Essence of Who Baden Powell (guitarist) Is:
Baden Powell (guitarist)'s Emotions and Feelings:
How does Baden Powell (guitarist) Think and Communicate:
Baden Powell (guitarist)'s Love and Romance:
Baden Powell (guitarist)'s Drive and Ambition:
Current important phases/events in Baden Powell (guitarist)'s life
---
Baden Powell (guitarist)'s relationships
---
Astrological aspects and planetary data / tags for Baden Powell (guitarist): Sun 13 Leo, Moon 15 Leo, Mercury 8 Virgo, Venus 1 Cancer, Mars 29 Scorpio, Jupiter 19 Capricorn, Saturn 4 Aries, Uranus 13 Taurus, Neptune 17 Virgo, Pluto 28 Cancer, Sun Square Uranus, Venus Quincunx Mars, Venus Square Saturn, Mars Trine Pluto, Jupiter Trine Neptune, Uranus Trine Neptune
Categories related to Baden Powell (guitarist): 20th-century classical composers, August 6 births, 20th-century guitarists, 20th-century male musicians, 2000 deaths, Male jazz musicians, Converts to evangelical Christianity, Brazilian male guitarists, Composers for the classical guitar, Bossa nova guitarists, Sunnyside Records artists, Brazilian composers, 1937 births, Música Popular Brasileira guitarists, MPS Records artists, Brazilian Presbyterians, Brazilian jazz guitarists, Latin jazz guitarists, Deaths from pneumonia in Rio de Janeiro (state)